What do you need to know to make your interior design project go swimmingly? We asked one of our designers for pointers.

Entrance hall in South of France property designed by Studio Duggan
1. Find the best designer for you
Get your choice of designer right, and everything else will follow. 'Interiordesigners.net is an invaluable resource,' says Tiffany. 'They are incredibly knowledgeable and well versed in putting forward the right designers for your individual requirements. Word of mouth and personal recommendation can also yield talented and experienced interior designers.'
2. Communicate what you want
Communicating your ideas of how you want your space to look and function is essential. 'Ensuring that your designer is well informed of all your requirements – both aesthetic and practical – is paramount,' says Tiffany. 'Some clients have a clear vision of what they hope to achieve, others are looking for more design direction from their interior designer. Whatever the case, clear communication is essential.'
3. Be open to ideas
'At the start of the process, we hold a design analysis meeting,' says Tiffany, 'where we look at reference materials together and build a broad picture of the design concept. After that, we prepare 'look and feel' concepts to communicate initial thoughts." If you want to do some preparation, sure what you want, 'websites such as Pinterest or Houzz are great tools to kickstart the creative process,' says Tiffany. 'Once you have an initial design concept, your interior designer will help you develop it. They will listen to your ideas and pinpoint the key ones.'
4. Decide how you will budget
Tiffany says that there are two ways of approaching your budget. The first is to give your designer your total budget figure, tell them your priorities, then allow them to prepare a specification that fits. 'This way,' she says, 'you will stick to your budget although you may not be able to achieve everything you would, ideally, want.'
The other option is to prioritise your scope of works over budget restrictions. This means giving your designer the go-ahead to design appropriate solutions to your brief, and provide designs and costs as requested. 'In this case, you will achieve everything you set out to, but the budget needs to have some flexibility,' says Tiffany.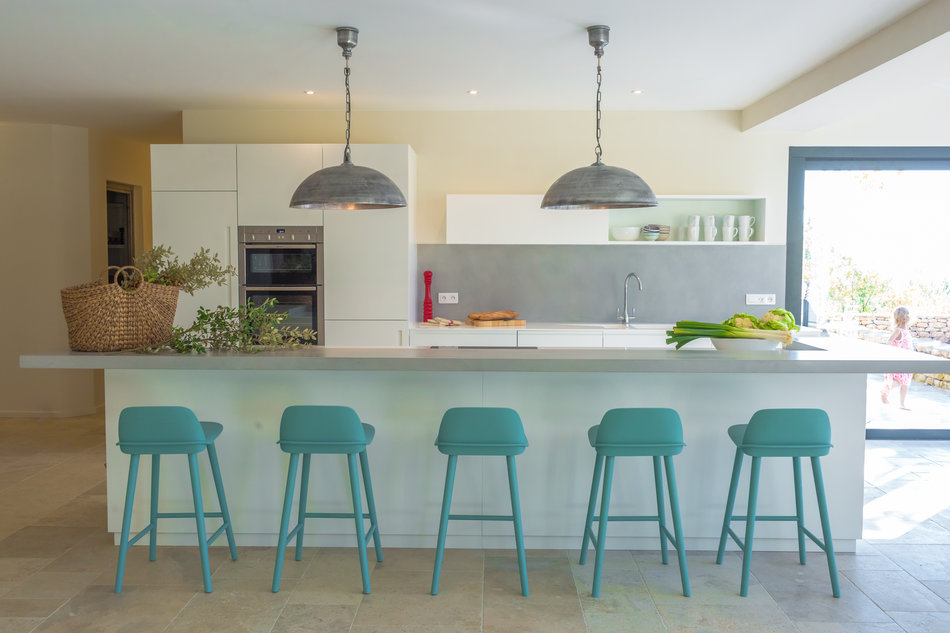 Kitchen in the South of France designed by Studio Duggan
5. Make informed choices
The choice of furniture and fittings available can be overwhelming. Fortunately, your designer will be help you navigate your way through. 'We ask our clients about their comfort and style preferences,' says Tiffany. 'We also consider who will use the space (kids, pets etc) and how they will use it. Then we can make informed decisions on their behalf. We present detailed specifications for approval, so they can check all aspects of our bespoke furniture before orders are sent to the workshop.'
6. Give feedback to your designer
Your designer will give you plenty of opportunity to voice your opinion about your project, so take advantage of it. 'Getting client feedback at the ideas and design stages is key to ensuring our work is efficient and targeted.' Try to give your feedback promptly to keep the momentum of the project going.
7. Be realistic about your ideas
It can be easy to get carried away with different interior schemes without being fully aware of the cost implications. Your designer will help you keep things in check. 'It all comes down to communication,' says Tiffany. 'We try to provide solutions for any client request, but sometimes these can be more costly than clients are expecting. If so, we will offer a viable alternative.'
8. Reveal (almost) everything
Your designer needs to know as much about your taste and style as you are happy to reveal. 'The most helpful thing a client can do,' says Tiffany, 'is to give us as much information as possible about their likes/dislikes and requirements from the outset. After this, trust and an open mind goes a long way.'
9. Be aware of the timeline
Although you don't need to police the work (your designer will do that), keep dates in mind as the work progresses and keep all parties informed of changes which will affect the schedule. 'We issue the contractor with a schedule of dates for them to fill out at the start of the project,' says Tiffany. 'Then we know when items are required on site, and don't run the risk of delaying the project. Internally, we schedule our time to coordinate with the contractor's completion of works so that we are ready to dress, furnish and style the house as soon as building work is complete.'
10. Enjoy the process
Little is as pleasing as watching your house become the home you have always dreamt of. Take time out during the process to savour the changes and enjoy the transformation.
Next time: Attention to detail and the importance of good joinery