Discover the three most common ways interior designers charge for their services in our straight-talking blog post.
You're keen to employ an interior designer but you're uncertain about how they charge for their services or how much it might cost. Our vast experience has taught us the three most common pricing structures:
1) A Fixed Fee
2) An Hourly / Day Rate
3) Percentage of spend
Now, let us explain in detail…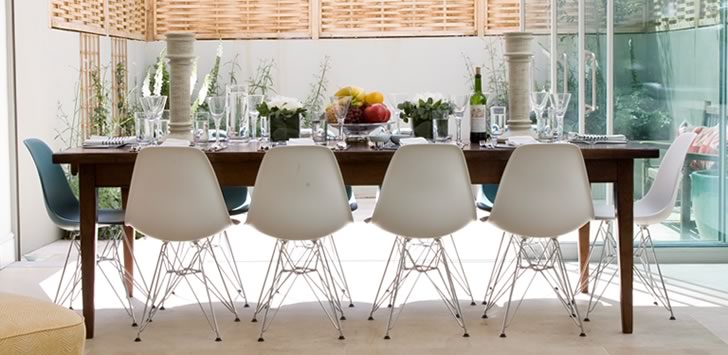 [Kitchen/Dining Area by Turner Pocock]
Not all interior designers charge for their services the same way, so it is important to establish which method yours favours. One of our main requirements of the interior designers we work with is that they are transparent about this from the outset, so they will be happy to discuss it with you. And remember that if you have any queries, we are here to help and advise on how to choose the right interior designer.
An interior designer will probably tailor their fee to your project. After meeting you and visiting the site, the designer will draw up a bespoke proposal setting out what they will do for you and how much they will charge. We usually recommend two designers to our clients so that they have a choice and can compare two fee proposals. We offer independent advice to our clients on comparing these proposals as they can be structured differently, as we will now explain.
There are three main ways in which interior designers charge their fees: the fixed fee, the hourly/day rate and the percentage. Sometimes fee proposals incorporate all three structures.
The 3 ways:
A "fixed" fee
The designer will will work out how much time and resource they anticipate the project requiring and quote accordingly. The fee is often split into stages and paid as each of the stages of work is completed with a deposit at the start of each stage. Typical stages are:
1) concept & layouts
2) design development
3) implementation.
Because the fee is being fixed at the outset, for this method to work it is important that both client and designer are clear about the parameters of the work involved. For example, the number of consultations and design revisions can be agreed in advance. If more work is undertaken, this will be then charged at the designer's hourly or day rate.
Bear in mind that the size of the fee doesn't necessarily bear any relation to the overall budget. A smaller budget may not mean a smaller design fee, in fact a smaller budget can often demand more of the designer's time and resources – similarly with projects requiring a fast turn-around.
Remember also that as well as the designer's fee, there could be a separate fee for building works and to pay tradespeople, and a further fee for FF&E (furniture, fixtures and equipment) such as flooring, light fittings etc (see Procurement, below).
An hourly or day rate
Designers will record the amount of time they spend on your project and charge you accordingly. They will operate time sheets recording exactly what their time is spent on and will provide you with regular updates. If this method seems too open-ended for you, designers will often be able to give you an up-front estimate of the number of hours likely to be involved in each stage of your project.
The hourly or day rate will differ from designer to designer depending on location and expertise. For example, interior designers in West London may have higher overheads and charge accordingly. Larger studios may employ designers of different skills and experience and vary the rate depending on who is working on your project.
As always, clear and regular communication between client and designer is key. Designers are aware that it is important not to spring fee surprises on their clients.
Percentage of spend
This is where the designer's fee is calculated as a percentage of what you spend through them on the project. Again, the percentage will vary from designer to designer. The reason some designers charge this way is because often it is very hard to gauge how much work a project will entail at the outset. Some clients worry that this fee structure could lead a designer to persuading them to spend more in order to increase their fee. This would not be in the interests of a professional interior designer with an eye on their reputation. If certainty is important to you, some designers are excellent at working out the overall likely cost of a project so that their likely percentage fee is visible from the beginning.
Procurement
Much of the designer's time at the end of your project will be spent on procurement (purchasing the FF&E) and installation (co-ordinating and accepting deliveries of the FF&E and ensuring that it is in perfect condition and properly installed). This can be a fiddly process involving many different suppliers so some designers will charge a percentage of the cost of the goods as their fee at this stage. If your interior designer is passing on some of their trade discounts to you (see below) often these will go a long way towards negating their fee at this stage of the project.
Trade discounts
Interior designers often get trade discounts on products, especially those not available to the general public. Some will share or pass on their discounts, others will keep them. Whichever method is chosen, we require our designers to make this clear in their fee proposal at the start of the project, so there is no room for confusion. Similarly, if your designer undertakes co-ordination of building works, he or she may charge a percentage fee.