How do you find the perfect match for your interior design project? Talk to us and we will help you make the right decision

St Albans project by The White House Interiors
Step 1: be prepared
The first thing you must do before embarking on your project is have a good think about what you want. The more you understand and articulate your wishes, the more likely it is that you will have a successful outcome.
What you want to do with the space? Perhaps something isn't working, or you need more room as your family grows. What do you need to do to achieve these changes? It might be helpful to draw up a wishlist to help you visualise the outcome.
Then consider how much time you have to accomplish this. You may have a specific deadline or a particular date to work towards. If your project is a large residential one, you may need to move out during the work. Keep this in mind when you consider logistics and budget.
It's important to be realistic about your budget, too. Think about how much you are prepared to spend to get the project done. You might also prefer that the work is undertaken in two phases to spread the cost.
Have fun exploring design and furniture ideas. To help your interior designer understand your style, gather together information and images that you like and think would fit your space. Take a look at our online gallery and collate your favourites in your own Style Book. Or look on Pinterest and pin your choices, or cut out features from magazines.
Step 2: have a chat with us
Once you have a clearer idea of what you want, it's time to talk to us at Interior Designers and we will help you define your brief. At Interior Designers, we offer a personal service that matches clients with interior designers. All our advice is impartial.
You will need to evaluate what level of input you need, for example. Some clients are happy to hand over the entire process to their designer, while others prefer to take on certain elements themselves.
When we have shaped the brief together, it's time to find your designer.
Step 3: consider our recommendations
We know our designers very well and we will take the time to get to know your project, too. Which means we are in a position to recommend a designer that will have the best fit with you. You will receive portfolios of at least two designers (more if required) and we will arrange a no-obligation phone call with them, for you to get to know each other better.
Step 4: meet your designer
After your initial phone conversation, you might decide that you like the sound of one (or more) of them. If so, we will arrange for you to meet at your property. There is no charge for this service. A package of information, including your brief, is sent to the designers beforehand so they will understand what you are looking for. We also provide testimonials from other clients about the designers, to reassure you.
Once you have met and got to know each better, the designers will go away and draw up a proposal.
Step 5: choose and instruct
Now you are ready to go. All you have to do is consider each proposal and make your choice. Armed with a clear idea of what you want, secure that you have sufficient knowledge about what it entails and reassured by your choice of designer, nothing can stand between you and a beautiful and accomplished result.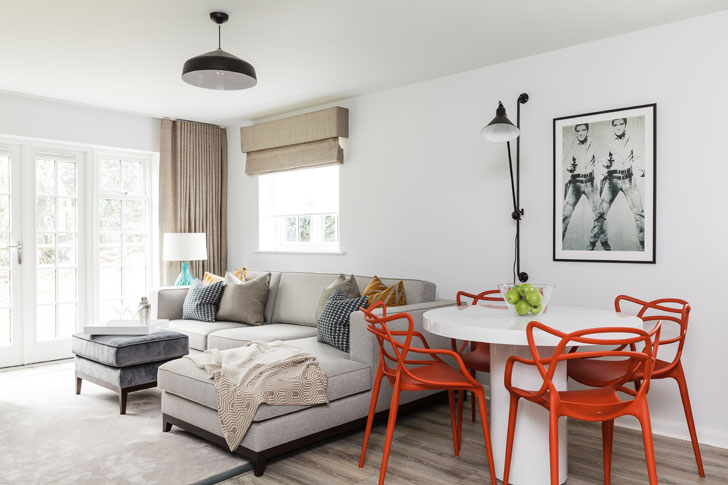 St Albans project by The White House Interiors
* To help you fine-tune your decision, read our other blogs: how to budget for an interiors project; how to choose the right interior designer; how to be a good interior design client.
Next time: The 4 basics of interior design on which you should always seek professional help