In the first of a series of case studies we chat to two of our designers about their transformation of a penthouse apartment in Blackfriars, London

The brief
Luke, 30, had bought a 1,000 sq ft, two-bedroom apartment with a 1,000 sq ft terrace in Blackfriars, London. He loved the space and the views but wanted a fresh approach to the furnishings and decoration. The bathroom and kitchen had already been fitted out but the living room, bedrooms, dining area and outside area needed to be furnished and decorated.
He told us that he wanted something pared back, industrial, utilitarian and modern. The colour palatte was to reflect this. He said that he enjoyed entertaining and wanted additional seating options for this purpose. He was also interested in a 'talking point,' as long it wasn't too obtrusive.
We matched him with Kat and Jess of Field Day Interior Design Studio who looked like the perfect fit.
The design process
After a briefing from us, Kat and Jess met Luke to discuss the project. They compiled a set of images based on the brief including a few 'wild card' images to see how he would respond. Luke also had a Pinterest board with images he liked. Because he could articulate what he wanted and because he and the designers spoke the same visual language, design inspirations were quickly identified: Brutalist architecture as exemplified in the National Theatre; Scandinavian design; industrial materials; the city of London, and the building itself.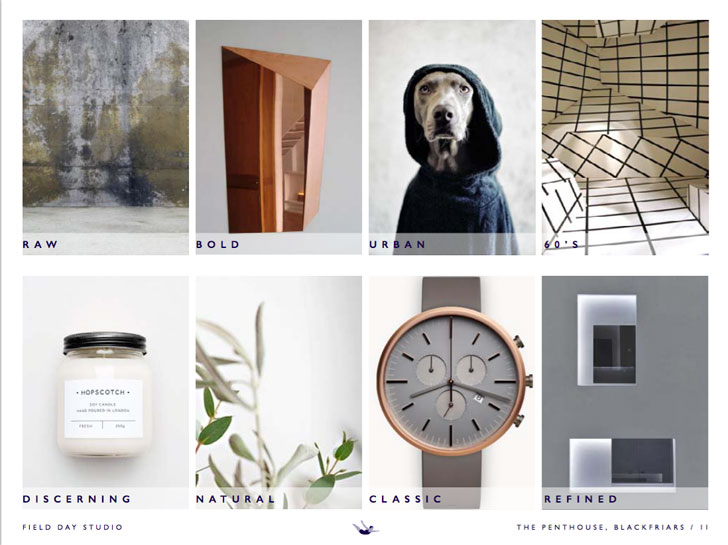 A moodboard from Field Day Studio's design concept for the apartment
'Luke already lived in Blackfriars and liked the building – which was a converted warehouse for Colorama photographic film – before he moved in,' says Jess. 'He wanted his interior to somehow reflect its architecture.'
Taking their cue from Luke's preference for Scandi Luxe and his liking for Brutalism, Jess and Kat introduced raw materials with their own subdued and natural colour palette. (The only 'colour' introduced was a navy wall in the hallway.) Concrete shuttered wall panels line the walls in the dining area, and the master bedrom was fitted with bespoke panelling made from strips of oak. Natural daylignt was maximised with the use of reflective materials such as the glass pendant lights from Brokis Lighting which hang over the sofa and the porcelain and copper tiles.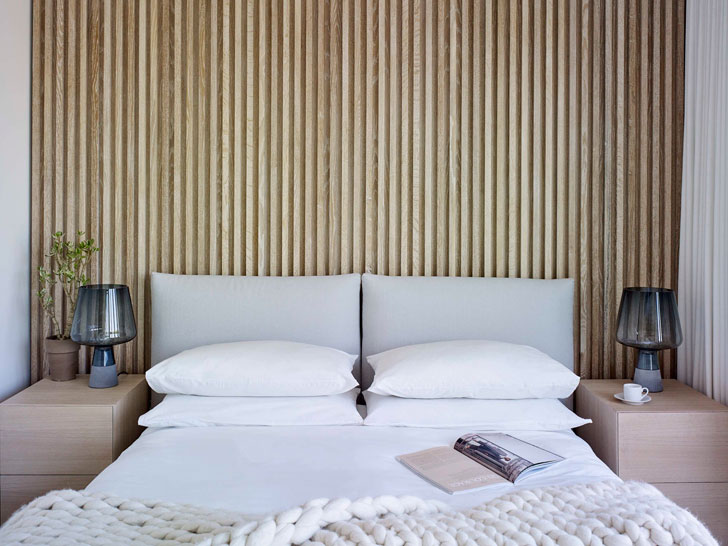 The oak panel behind the bed was custom-made
Kat and Jess have established good working relationships with various trades and crafts people and like to commission bespoke pieces tailor made for individual projects. The Hayward blanket on Luke's sofa was inspired by London's Hayward Gallery and hand made to order by Custhom. The skyline of London was the inspiration for the striking 'talking point' in the dining area: a wall of ceramic white and copper Domus tiles that echo the shapes and forms of the Barbican. 'By expanding Luke's ideas, we were able to be really creative,' says Kat. 'It was exciting to make something original.'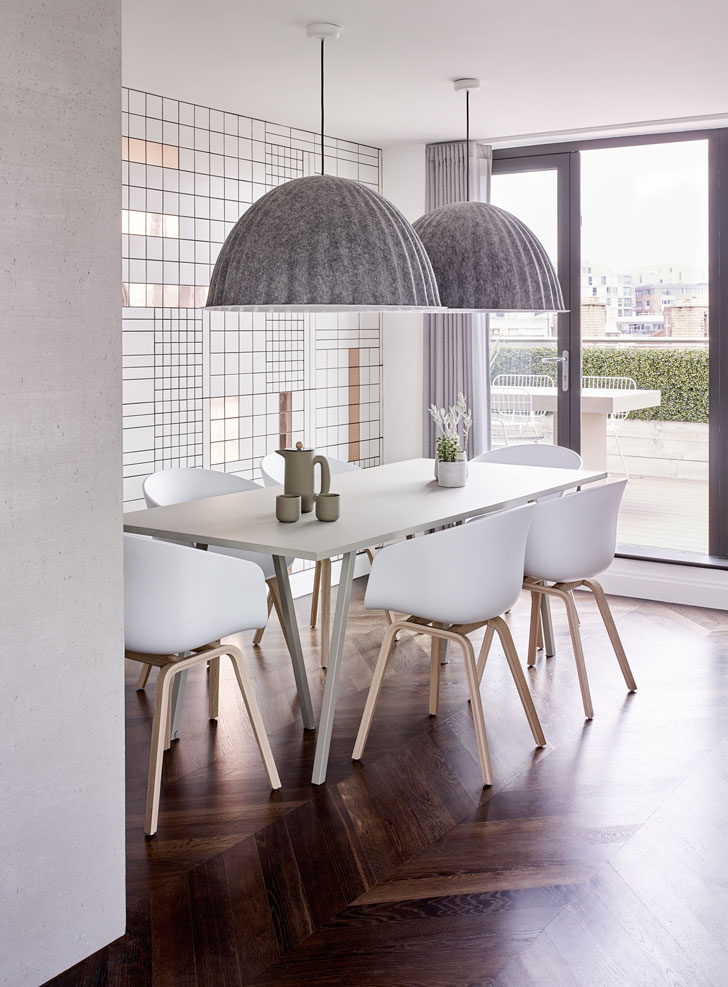 Ceramic tiles in the dining area take nearby Barbican as inspiration
The choice of furniture was easy: 'Once we got the concept right and agreed on the direction, it fell into place.' They chose a few key pieces with a Scandi feel, such as the sofa from Muuto. The roof terrace was made entertainment-friendly with the addition of outdoor furniture, whitewashed planters, fake hedging and architectural plants.

The Muuto sofa with hand-made Hayward blanket
The result
After months of design work and organisation, Jess and Kat took three weeks to install the project, during which time Luke stayed elsewhere. 'He was involved throughout and so had a good idea of what the finished result would be,' says Jess, 'but he was still amazed when he walked through the door. He said that he couldn't believe it was his home, he said it was his dream space, like a page from a magazine.'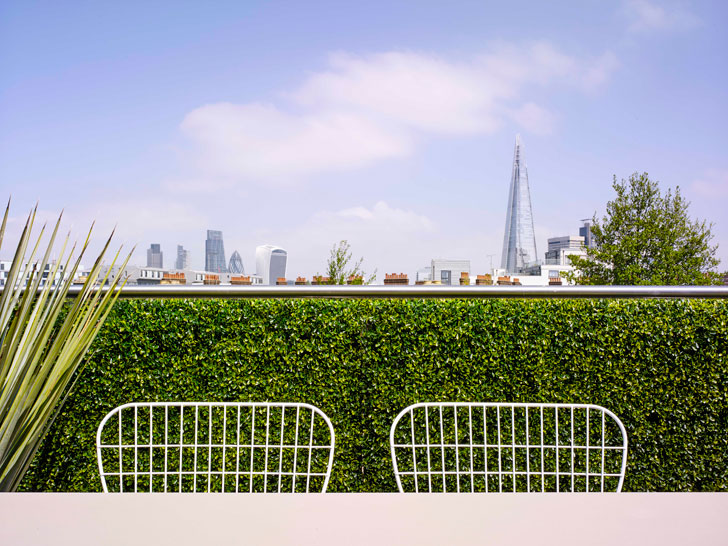 Next time: does involving an interior designer necessitate starting from zero or can they work with what you've got?