This time we consider how to budget for interior design projects that go beyond 'cosmetic': ones that involve building works
In part one, we discussed why it's important for you and your interior designer to understand and agree on your budget from the start of a project, and we looked at tips on budgeting for 'cosmetic' interior design projects. But what if your project is bigger than that and involves building works? How can you work out how much money your designer will have to work with so that expectations are properly managed?
Here are some guidelines to help:
Establish your overall budget and what it covers
Consider what your overall budget is and what it needs to cover. Is the amount you have in mind for the building works and the interior design works (including FF&E - furniture, fittings and equipment)? You may already have received quotes from contractors for the buildilng works, in which case how much will you have left over for the parts of the project you want the interior designer to help with? Sometimes the line between what is covered by the contractor and what your interior designer will source and supply is not clear. For example, where do things like the kitchen, bathrooms and flooring fall? It is good to establish who is going to be doing what at the outset so that budgets can be properly allocated and managed.
If you've decided your builder is going to supply things like the flooring and windows, keep an eye on the provisional ('PC') sums they have included in their quotations: they often represent the lower end of the market and can be unrealistic for the look and finish you want and. For example, a flooring 'PC' sum, might be for vinyl whereas you may really want engineered wood. If you are planning a rear extension, decisions on location and style of things like new glass windows and doors will have an impact on the budget so thought should be given to them early on. A builder may provide a PC sum for standard UPVC windows when you would prefer Crittal metal-framed ones. The difference in those price points is considerable and the cheaper option will also have a knock-on effect on the whole interior.
Get input from an interior designer early on
Which is why it is valuable to work with an interior designer from the start of the project. Doing so will highlight any such discrepancies. They will help you establish an overall design concept which will highlight the main design features, style goals and the look and feel you are going for. Then they can act as design 'watch dog', scrutinising costings to make sure they are realistic for what you want to achieve. The builder may say that he can shave £2,000 off a couple of bathrooms, but this could mean that the finish and contents will be compromised. Your designer will be able to advise you and help you consider whether there are other more sutiable ways to cut back on the budget.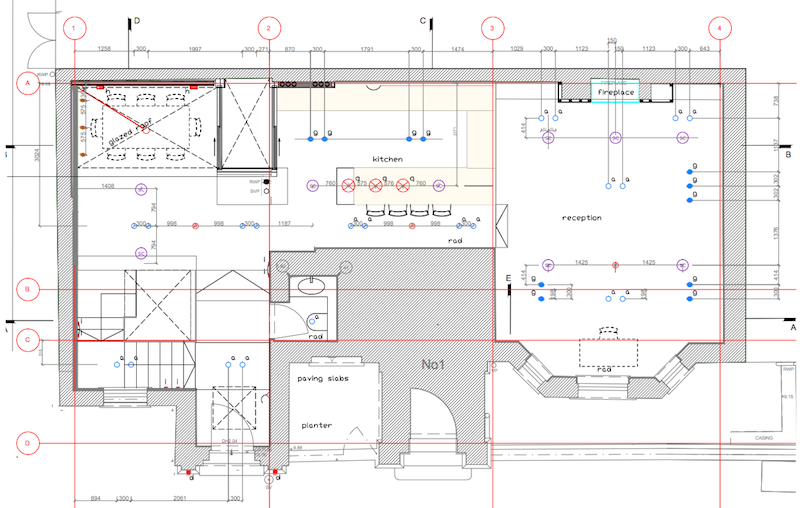 Construction Drawings by Landmass London, high-end residential design company
Envisage how you will use the space
One of the first things your interior designer will do is help with space planning to ensure you are making the most of the new (and old) space. Often an architect designs an extension's footprint without considering how the occupants live and what they will do in it. Working with an interior designer from the start will help you decide where best to place the doors and the staircase and work out how to fit in a downstairs cloakroom, for example. They will also look at all this from a traffic flow and ergonomics point of view.
Getting the space planning right early on will enable the project to be costed up properly, and avoid expensive mistakes and missed opportunities.

The finished product by Landmass London
Work out your 'ideal' and 'maximum' spend
Working out a spend you would ideally not exceed and then a hard maximum can be beneficial. These figures can be for the whole project or for distinct areas: some parts of your project may be less important than others and consequently cost less. Some interior designers grade rooms according to importance and allocate budgets to them in line with this. You'll want to invest more in your mater bedroom, for example, than a guest bedroom.
Talk to us!
If you give us as much information about the project as you can – existing and proposed plans, any quotes you have received, suppliers you are talking to or ones you would like to approach, and the overall style you are aiming for – we can recommend the interior designers that will be right for you and your budget.
Next time, we look at another of our matched projects - a home in Blackheath.