We chat to Tom Faulkner, maker of high-quality handmade furniture, about selecting the perfect pieces for your interior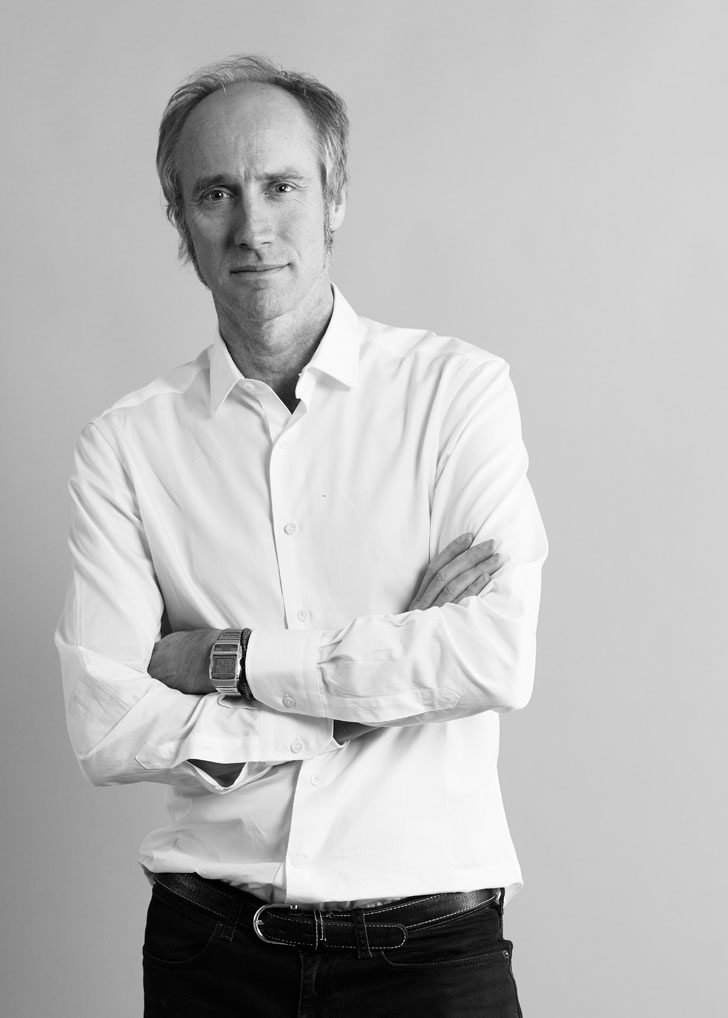 When it comes to choosing furniture for your home, the amount of choice can be overwhelming. Which is where working with an interior designer comes in. We will match you with a designer who will edit your choices and find the right supplier to suit your style and budget.
One such supplier is furniture maker Tom Faulkner, above Tom works extensively with interior designers – they account for about 70% of his sales – and they often come to him for advice, bearing moodboards and requests from their clients.
It is easy to understand why interior designers head for Tom's showroom. Each Tom Faulkner piece is a beautifully detailed, highly finished, often sculptural statement, made from mixed materials such as bronze, steel, wood and glass, handmade in his workshop in Wiltshire.
'Sometimes I see the client and the designer together,' Tom says. 'Otherwise the designer communicates what the client wants to me. Once they have made a decision, they either buy a piece from the Collection or have a piece made, specifying dimensions and finish. We also make bespoke, one-off pieces.'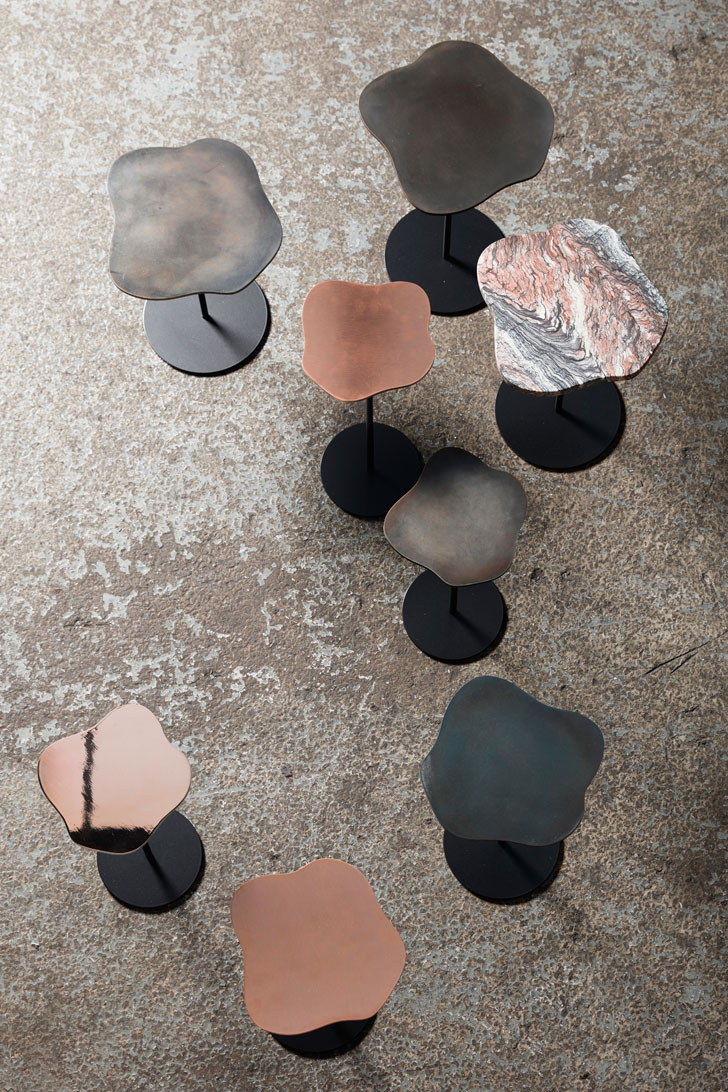 Tom's Lily side tables
How to make the right choice
Coming to the right decision when choosing a new piece of furniture is easier if you bear a few things in mind, says Tom. 'The important thing is to consider the spirit of your decorative scheme. Do you want to create a relaxed, family space or are you aiming for a smart place to entertain? Do you want a dining table that impresses your guests or one that the children can do their art projects on?'
The colour of your decorative scheme and how your furniture will sit in it is another consideration, as is reviewing your existing pieces of furniture: 'You may have a valuable rug which you don't want obscured by a coffee table,' he says. Also consider the optimum sizes of your new pieces. Take dining tables, one of Tom's most popular lines: 'Some people want a round table without realising that it's not very friendly if it's too big – it's hard to pass dishes from one side to another and to talk easily. An oval table may b a better option.'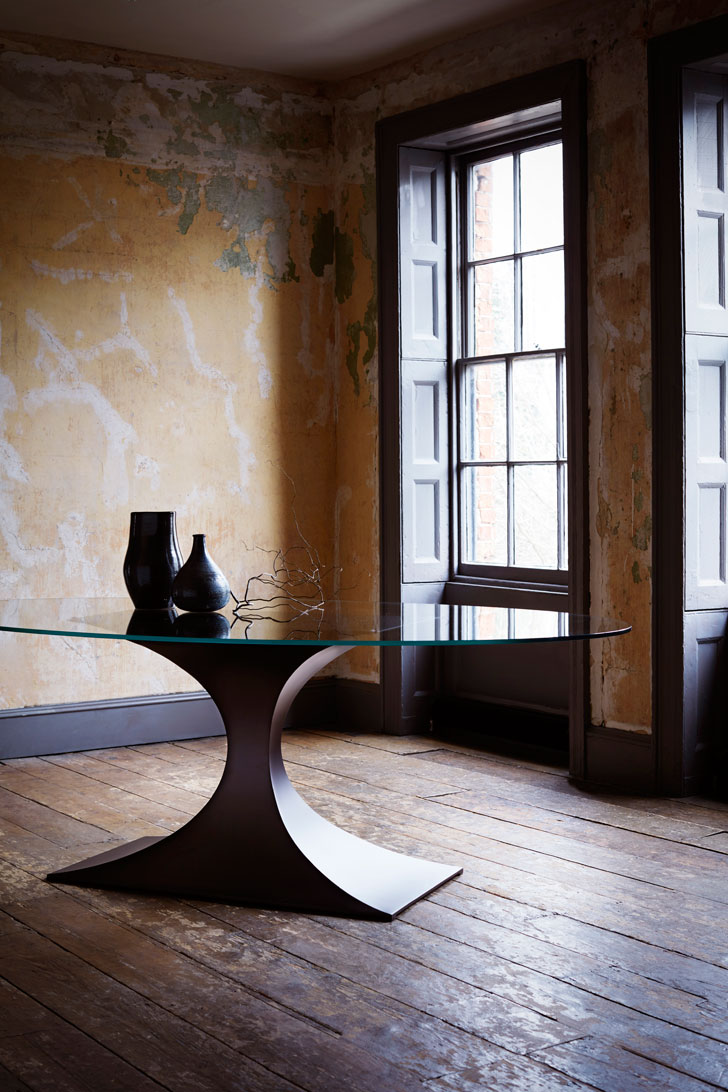 The best-selling Capricorn dining table by Tom Faulkner
Materials and finishes
All Tom Faulkner furniture is made-to-order and takes about 6-8 weeks, from order to delivery. 'We pride ourselves on a good customer experience,' he says. 'It's important to me to understand our clients and to build a good relationship with them.' He encourages potential buyers to drop into the Chelsea showroom to have a proper look at what's available: 'There's nothing better than seeing the real thing,' he says. 'There's always a selection of the Collection on show, books to look at and someone to talk to.'
A showroom visit also gives staff a chance to explain the different materials and finishes used. 'Some people are not aware how versatile metal is,' says Tom, 'and how different finishes change it. Steel, which I use for dining tables and chairs, takes a lot of different finishes that transform it.' These include powder coating, and antique finishing in a variety of colours and effects.
The most popular Tom Faulkner pieces are his dining table and chairs, especially the best-selling Capricorn table, above, but he also makes coffee tables, cabinets, lights, mirrors and other home accessories. Let one of our interior designers introduce you and help you make the perfect furniture choice for your project.