The difference between a successful project and an OK one is a good relationship with your designer. But how do you make that happen? We asked a client and the designer with whom we matched her for their side of the story.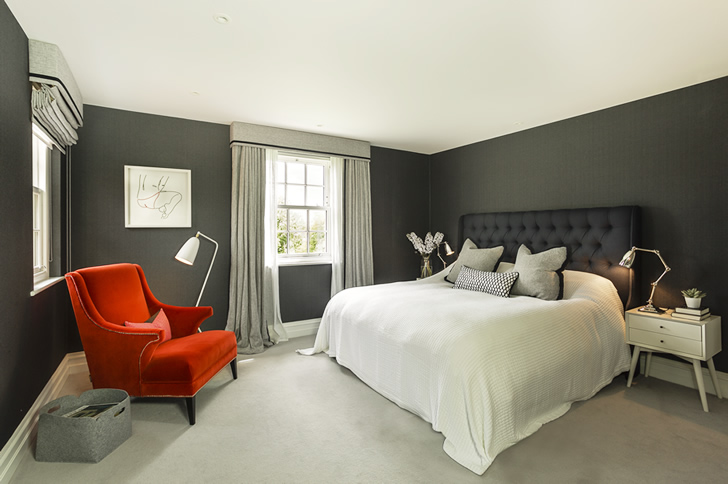 [Oxfordshire interior by Emma Hooton. Photograph by Martin Gardner]
Be realistic
The more open you are with your designer at the outset about what you are prepared to spend, the easier it will be for both of you. A designer is best placed to advise you on how to make the most of, and keep within, your budget if you are up front about the amount and what it has to cover. If you don't know what sort of budget you need, your designer can help you.
'It's important to talk about the budget at the start of the project and to establish the pricing method,' says interior designer Emma Hooton. 'I always make clients aware of the cost of things like window treatments and joinery, which can be more than they anticipate.'
Make the most of your designer's knowledge and expertise around costings: they know their way around different price points and how to mix high street, vintage and bespoke elements to create the look you want. If you are undertaking a large building project don't forget to disclose the associated costs, such as builder's quotes. Remember that it is in your designer's best interest to spend your money wisely: they have a reputation to maintain!
In terms of the cost of the interior designer themselves, there is no set way in which interior designers in the UK charge for their services (see our previous article on How does an interior designer charge?). 'Make sure you understand the pricing structure,' advises Caroline McGuirk, whom Emma helped with her new build home in Oxfordshire. 'All designers price differently – some by the hour, others on a percentage basis. It's best to be really clear about this from the start.' At www.interiordesigners.net we can talk you through the different pricing structures of our interior designers so you know what to expect. One of our key requirements with our designers is transparency.
Allow enough time
A rushed project is a botched project. Give it and your designer enough time, though, and it will be a triumph. Draw up a realistic schedule right at the start (your designer will advise) to allow time for proper design work, supply (furniture orders can take up to 12 weeks) and snagging.
Emma advises against setting a Christmas deadline. 'From October onwards it's hard to get things booked in as most tradespeople are solidly booked,' she says. 'Go on holiday instead!'
Once the work has started, try not to stop. Keep up the momentum to retain tradesmen who have been booked in, avoid unexpected price hikes and to ensure a smooth and satisfying work flow. 'Projects can be long and circumstances can change during that time' says Emma. 'It's important not to stop and to be flexible and open to change.'
Make the most of it
Get your interior designer involved in the project as early as possible in order to make the most of their expertise. Our designers are not just interior decorators, they are interior architects with expertise in space planning, lighting design, joinery design and so forth. The more you involve them, the more they will be able to help you.
One of the joys of working with an interior designer is that they take a load off your shoulders. They will be able to order things at trade discounts (and only available to the trade), deal with matters when they go wrong, and recommend and oversee tradespeople. Make the most of their little black books filled with the names of suppliers and tried and tested tradespeople such as joiners, curtain makers and upholsterers.
Let go!
In your interior designer you will have a creative partner and inspiration. Have faith in their knowledge and in their skill, and trust them to narrow down the choices for you. They are likely to have seen your tiny swatch of fabric or paint sample on a curtain or wall in another client's house, so they know what does and does not work.
By allowing them to take you out of your comfort zone, you will create something really special. And if you don't like it, don't worry: you will have the final say.
'The secret is to choose the right designer in the first place but to stay true to yourself,' says Caroline. 'And don't get carried away – you have to live with the choices you make.'
Allow a designer to do what they do best and your home will be styled beautifully right down to the smallest detail. 'It's important for a designer to look after the details right to the end; that last cushion, the placing of the final chair, the finishing touches,' says Emma. 'My aim is to achieve something they could not have done themselves. I love it when the project is finished and the client is excited and pleased because they have got something far better than they imagined. Something they can show to their friends with pride.'
Next time: 5 things to consider when costing up a project