From a short consultation to a total refurbishment, there are many ways an interior designer can help you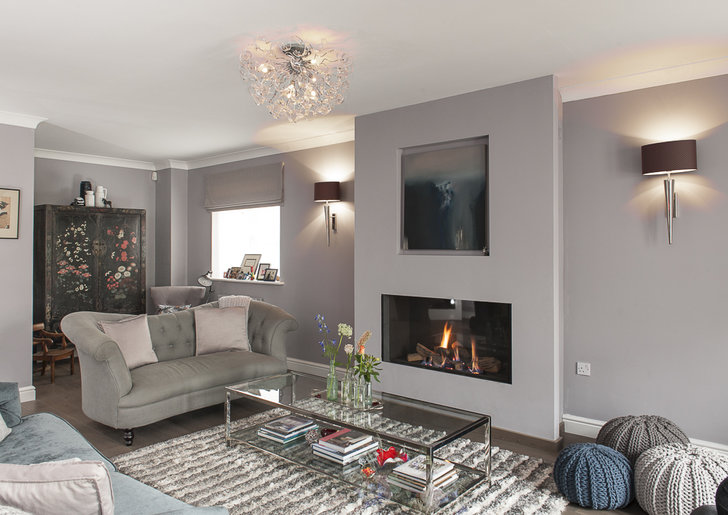 Living room designed by Phoebe Oldrey of Smartstyle Interiors
At InteriorDesigners.net people often approach us simply asking for ideas to kickstart their project. Our aim is to offer the optimum service for our clients, whether it's a total refurbishment or an initial chat about ideas. All of our designers have a shopping list of services, each with a different fee – one of them is sure to suit you.
'We only want a design concept'
Whether you are looking for ideas or have heaps of your own, your designer will help you create a concept that encapsulates the look, feel and essence of the project. The design concept is the foundation of any project and key to the whole process. 'It pulls the whole scheme together,' says Phoebe Oldrey of Smartstyle Interiors. 'It can take sevearal meetings, it depends on how big the job is. And it may be all you need if you are just refurbishing a bedroom where the key things – the bed, the curtains, the wardrobe – are fixed.'
What you will get: usually a collection of images that represent the tonal palette of your interior, the finishes, and the textures. Whether you take this to the next stage with the designer is up to you.
'We want help to plan our space'
You may have added an extension to your property, creating a larger space that encompasses the kitchen, dining and living space. Or perhaps you have removed a partition wall and created a long, sometimes narrow room. In either case, your interior designer will help you zone the new space to include designated dining, relaxing or working areas, for example. 'It's important to get the right layout for the space at the outset,' says Phoebe. 'It has to suit the space and your lifestye.'
What you will get: a measured, indicative furniture plan to work around. It is crucial to have this in place before you move on to the lighting and electrical plan.
'We want to see a moodboard'
A moodboard helps you to really get a feel for how your interior will look. After you have agreed the design concept with your designer, they will collate and curate the furniture, fabric and finishes ideas that fit your vision. With a moodboard and a space plan in place, you are ready to go shopping.
What you will get: a selection of furniture and accessories ideas, fabric swatches and paint colours on a board or as a digital document. One or two revisions are often included in the price. Ask your designer at the outset if this is the case.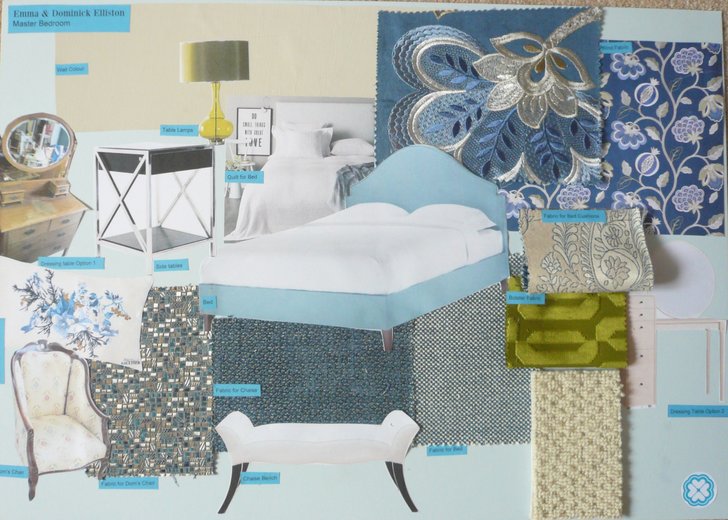 Moodboard by Phoebe Oldrey of Smartstyle Interiors
'We want to get down to specifics'
The concept, moodboard and plan are in place and you are ready for the next stage. A designer will specify the furniture, fittings and fixtures while being mindful of your budget. They will then source what you need and calculate the quanitities and cost. 'I like to mix high street with high-quality generic things,' says Phoebe. 'I think of it like buying an outfit: the cotton top comes from H&M but the tailored leather skirt is from Reiss.' They can also produce lighting and electrical plans, design and have made bespoke cabinetry and specify the interior architectural detailing such as architraving, skirting and cornicing.
What you will get: if you want to buy the items yourself, the designer can draw up a shopping list of items to be bought. They can also come shopping with you if required. Some items cannot be purchased on the high street so you may your designer to purchase them on your bahalf.
'We just want some ideas'
If you need to brainstorm ideas about your interior, one of our designers will be able to point you in the right direction. After an initial phone call to establish what is required, the designer will come to you home to discuss your plans.
Phoebe says that some clients find it difficult to make a decision, or spouses disagree about what they want, in which case she acts as an intermediary. 'I give them a professional point in the right direction,' she says. This meeting which lasts up to three hours maximum ('This is plenty of time,' says Phoebe. 'Any longer would be too much') is followed up with an emailed document detailing your discusssions. 'I always include images in the document,' says Phoebe, 'as this is such a visual process.'
What you will get: an initial phone call followed by an on site consultation and a follow-up emailed document. Phoebe charges £300 for an on site consultation – 50% of this fee is refunded at the next stage if you continue to work with her.
'We want help styling our home'
You may have collected various items on your travels and need help displaying them. Or you may be selling your house and want extra accessories to style it for the shoot. In either case, one of our designers will be able to help. 'Property developers know the value of styling a house for sale, and now private individuals are beginning to as well,' says Phoebe. 'The money is well spent if it increases the property's value.'
What you will get: your house 'staged' by a professional.
If you need any more information, remember that at interiordesigners.net we are always happy to discuss what is best for your project and match you with a suitable designer.
Next time: Defining roles - how are tasks shared between an architect, QS, structural engineer, builder, project manager and interior designer?