Before you get the keys to your brand-new property, get one of our interior designers on board. Itís the best way to get the home you really want
A new build is a blank canvas. No evidence of previous owners here, no botched renovations or unappealing decoration to remove. Instead you have free reign to stamp your own personality and taste on your property. If, that is, you tread carefully and make the right decisions at the right time. Get an interior designer on board early and the process will be exciting and fun, and you will get the home you have dreamt of.
We asked one of our design practices, Studio K Design, headed by Nicola Keenan and Vickie Kirk, to talk us through some of the questions raised by clients when moving into a new-build property.
How much choice will I have?
'If you are purchasing a brand-new-build apartment, hard finishes such as kitchens, bathrooms, fitted wardrobes, flooring and basic interior decor are part of the whole package,' says Nicola 'These finishes are usually determined by the developer and are identical across all apartments.'
Each developer is different however, and some do allow purchasers who are buying off-plan or before the build is completed, a choice of different hard finishes. Although, as Nicola points out, this is most often at the top-end of the market, not an average two-bedroom apartment. If this is the case, be prepared and give yourself enough time to talk through the options with your designer and come up with a plan: developers can spring these choices on you and expect an immediate response. Ask how much leeway there is and for a timeline so that your designer can plan interventions at the right time, and come with you to the showroom to talk it through with the developer if needs be.
What Studio K Design offer is a bespoke interior design service. 'Most new builds have white walls and wooden floors,' Nicola says, 'and while some of our clients are happy to leave it like that and simply add furniture and window treatments, others want more. We can implement a colour scheme throughout the apartment painting or papering walls, for example, install pendant lighting or design bespoke joinery for a cupboard in the hallway to create a closet for coats and shoes.'
When should I order the furniture?
Dining furniture sourced by Studio K Design
We've seen it happen so often: the homeowner gets the keys to their new property but has nowhere to sit. Then they make hasty shopping decisions and end up with a sofa they don't like and which doesn't fit their interior scheme. They have made an easy mistake and forgotten the length of time that it takes to get furniture made and delivered.
'Some clients move in and their only furniture is a mattress to sleep on,' says Vickie. 'They want to live in their new home before they make any design decisions or while they wait for their ordered furniture to arrive. In this case, some furniture suppliers can helpfully provided an interim sofa while our client's sofa is being manufactured. Other clients want a 'turnkey' solution: to walk into a fully furnished, dressed and styled apartment, complete right down to crockery and towels. The timing depends entirely on the client.'
Studio K Design recommends allowing at least 4-8 weeks for furniture delivery but preferably more – some European furniture companies can take up to 10-12 weeks. In order to avoid furniture mishaps, get an accurate floorplan from the developer. Your designer will be able to work up a measured furniture plan, below, from this so that you know exactly how large your furniture should be for optimum space planning.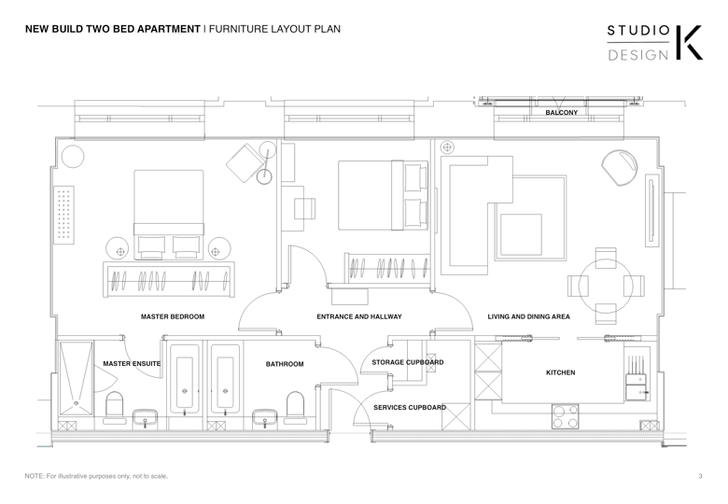 Furniture layout plan from Studio K Design
And don't push the button on your furniture order until you have a fixed date to move in. Building projects can over-run by up to several months and you don't want to end up with storage costs. When you have your fixed move-in date, order furniture to arrive just after that. If you are busy at work, your designer can accept delivery for you and deal with any snagging on your behalf.
'Throughout the whole process,' says Vickie. 'It is important to be patient and flexible. That's the way to guarantee a successful outcome.'
Should I go for a Furniture, Fixtures and Equipment (FF&E) package?
Some developers and estate agents offer FF&E packages – curated collections of furniture, soft furnishings, fixtures and accessories including curtains, cushions, even artwork. As these are ready-made collections, they will have shorter delivery times. However, although these packages are often standardised and can leave little room for individual tastes and preferences.
'We prefer to offer a more bespoke interior design service in terms of style and budget,' says Nicola. 'A furniture package can seem attractive but it will be identical to that offered to other home owners. It's quick and easy but not that special. We focus on the client's vision for their home, what they want to achieve, and how they are going to live in it, and create an interior which is entirely individual to them.'
How can I make my new-build look like it's mine?
Your first sight of your new home will be the showhome. But what if you don't like the way it is decorated? Not to worry, your designer will help you look beyond what has been presented and advise on what can be created to suit you instead.
Many new-builds will feel clinical and character-free, so the designer's prime function will be to interpret your personality and tastes and create a home that reflects both. They will introduce colour and texture to give your home depth, create bespoke storage where required and ensure that the lighting is layered.
'Our most important role,' says Vickie, 'is to help our clients turn their new build into the home they really want.'
Next time: Commercial projects: interior designer or design + fit-out company?