Office interior design is changing – rapidly. We explain how to get ahead of the game by working with an interior designer from the outset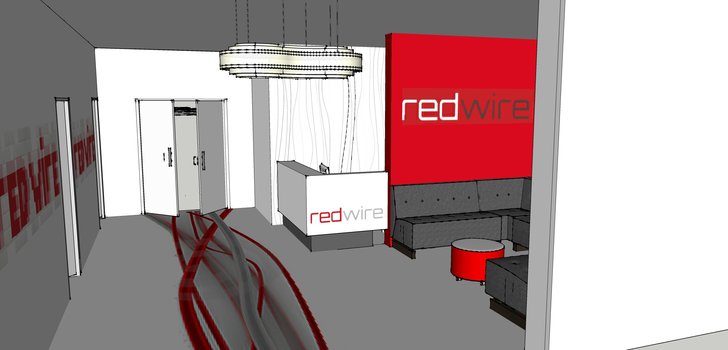 [Office space designed by Susan Quirke of Quirke McNamara Consultancy]
Under-performing and unmotivated staff? Dull lighting and a stifling ambience? The two are undoubtedly linked. Businesses are fast cottoning on to the need to provide a stimulating and nourishing working environment for their employees if they are to have the competitive edge. Companies such as Apple and Google appreciate the impact that interior design has on their creativity and performance and are now at the forefront of a new wave of office interiors.
A unique interior design scheme
If you are about to move into new premises or decide that 2016 is the year to refresh your existing ones, start by finding an interior designer who can understand your business, appreciate your objectives and has the requisite skills to design an inteiror which furthers them.
Why use an interior designer and not just go with a fit-out company? It's tempting to employ a fit-out company to take on the interior design as well as the implementation – especiallly from a cost perspective. This is fine if you want a safe, off-the-shelf design. But if you are after something a bit more cutting edge, something that reflects the character of your businss – something with individuality – then you need to work with an interior designer.
'An interior designer will provide design flair,' says one of our designers, Susan Quirke of Quirke McNamara Consultancy. Susan works on a variety of different projects from high-end residential homes to commercial premises, and her practice works with private clients as well as property developers and public clients, so she has a wealth of experience in the area. 'Fit-out companies have a standard set of details they use,' she explains. 'An interior designer brings more creativity to the project and collaborates with the client on a much more personal, bespoke level to create a unique space with the wow factor.'
Designing a commerical interior
What do you need to consider, then, at the start of your commerical project to ensure a satisfactory result? 'It very much depends on what the space will be used for,' says Susan. While an office is obviously more formal then a restaurant or retail space, office interiors are becoming much more layered. For example, informal break-out areas, used to encourage original thinking and idea flow, are now seen integral. In either case, says Susan, 'the client needs to be clear idea about what they want the space to say.'
Susan suggests pulling together a moodboard of images of other spaces that inspire you or that are in competition to your business, and to consider what equipment will be needed. 'Clients also need to think about the lighting,' she says. 'It is as important as the space plans and the materials.'
The company's ethos and branding will undoubtedly inform the design. 'It is vital to ensure that the company's message gets across,' says Susan. 'We always start by looking at the client's logo and branding, and discussing what it says about the company.' She may avoid funky lighting for a more corporate business, for example, or use colours employed on company branding in the interior scheme.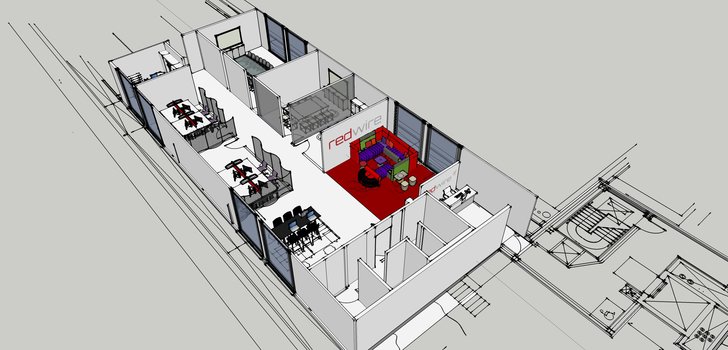 [A 3D office sketch by Susan Quirke of Quirke McNamara Consultancy]
Also remember that this is an interior created to make profit. Unlike a residential project which is filled with personal items, a commercial space must have impact and be designed around maximising output. Understanding the company philisophy and what motivates its staff is key to this. Your interior designer will produce a concept which takes all this into account and reflects it back to you. Once this has been agreed, more practical matters are tackled. 'If the space is an office, we need to know how things such as many staff there are, how large the reception is and if there are hot-desk or chill-out areas,' says Susan.
Before you embark on a commercial interiors project it makes sense to chat to one of our designers. That way you will get an interior that not only reflects your brand but will grow your business and make you stand out from your competitors.
Next time: "We are just looking for some ideas..." Looking at different levels of design input.