The new way of working is all about sharing space, facilities and cost. But how do you make your space comfortable, stimulating and reflective of your brand and office culture?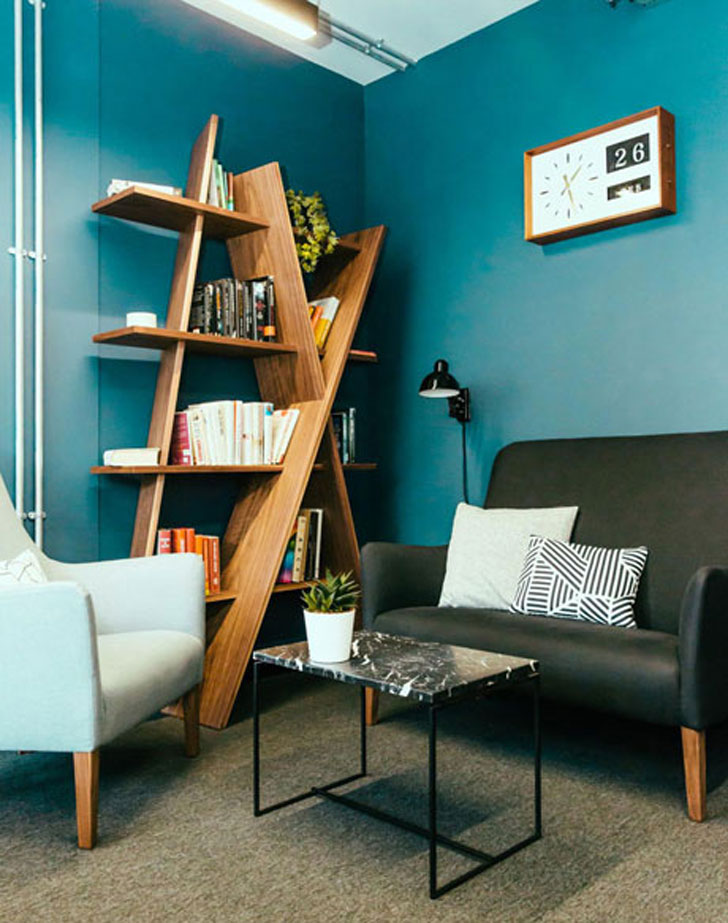 Celine introduces elements of home into her office designs.
Celine Erlam has first-hand experience of co-working spaces: she runs her interior design business, Indie & Co, from The Office Group, a shared workspace in central London. 'We signed up as members so we could use any of the shared open spaces and just grab a desk. Then we got our own designated desk, and now we have our own office.'
This flexibility, both in terms of space and cost, is one of the reasons she is such an advocate of this relatively new way of working. There are plenty of others: 'You are in a shared environment with other like-minded people, so there are opportunities for networking and socialising. And for a monthly fee, everything is taken care of, from printers to the internet to techncial and handyman support.'
All of which explains the upsurge of people choosing co-working spaces over conventional offices. Many are self-starters or small businesses looking for a professional place to work that can adapt or diminish as their business changes. And many have creative, tech or design-based businesses that suit the contemporary style and modern offering – gyms, coffee outlets and screening rooms are often part of the package.
A designed work space
Working from a co-working space made Celine realise that whereas the communal areas were designed to a high standard, the individual spaces were not. When faced with a blank box furnished with just a desk, chair, lighting and carpet, many people did not know what to do with it or didn't have the time. This is where her skills come in. Designers like Celine can customise your office space for you from a few pointers to a full design project including sourcing furniture, accessorising (stationery, books on bookshelves, clocks, pictures, cushions) and styling.
'My clients might not feel confident enough to pull off the finished look themselves,' she says. 'They usually don't have time but they have a bit of money to enable me to do it for them.'
And businesses like TOG like it too as it encourages their 'workers' to stay.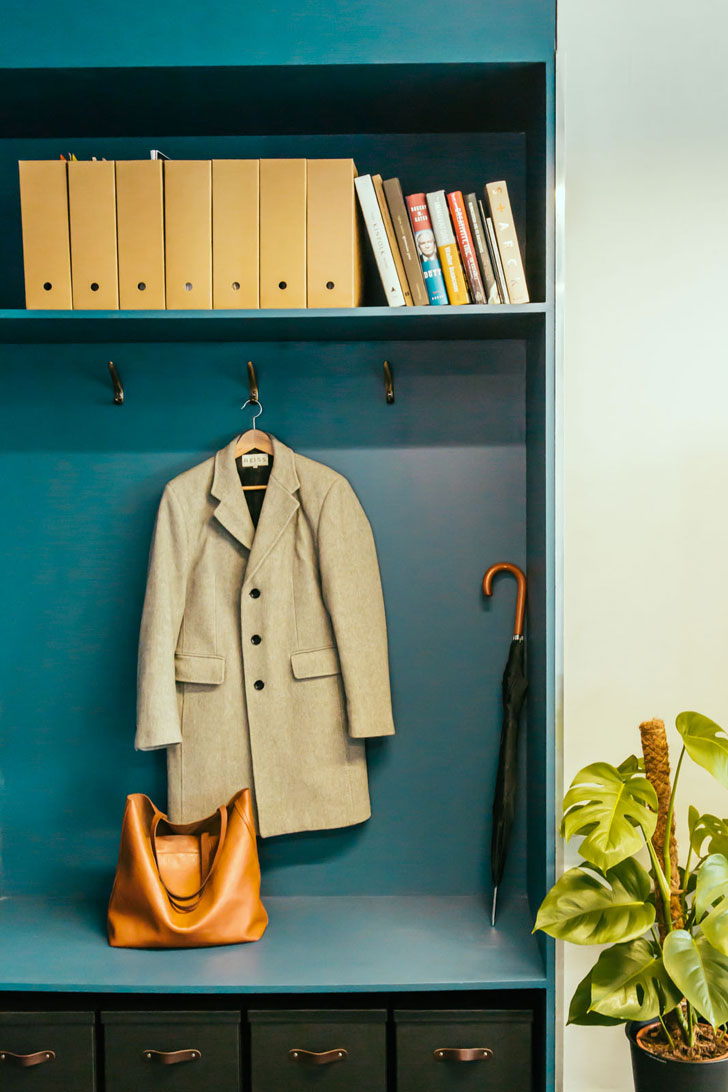 Storage, plants and places to hang clothes can be introduced into office designs
A home from home
The trend now, Celine says, is for the office to replicate the home environment. 'People want to incorporate other things into their working day, just like they do at home. They go to the gym, have a shower, go to classes. I might incorporate a reading corner with a bookshelf and an armchair, somewhere to listen to music or a snack cupboard. It's a new way of looking at offices, which in the past have been sterile and static with people stuck at their desks. Now activities are varied, which means that offices are more productive, creative and healthy.' It's a new and exciting way of looking at the working environment.
Celine also ensures that her designs are transportable so that clients can take their furniture and accessories with them when they move on. 'It's not like a home where you invest in the property and intend to stay for a long time. Everything is movable and changeable. Nothing is built-in or wall-mounted, which also protects the fabric of the building.'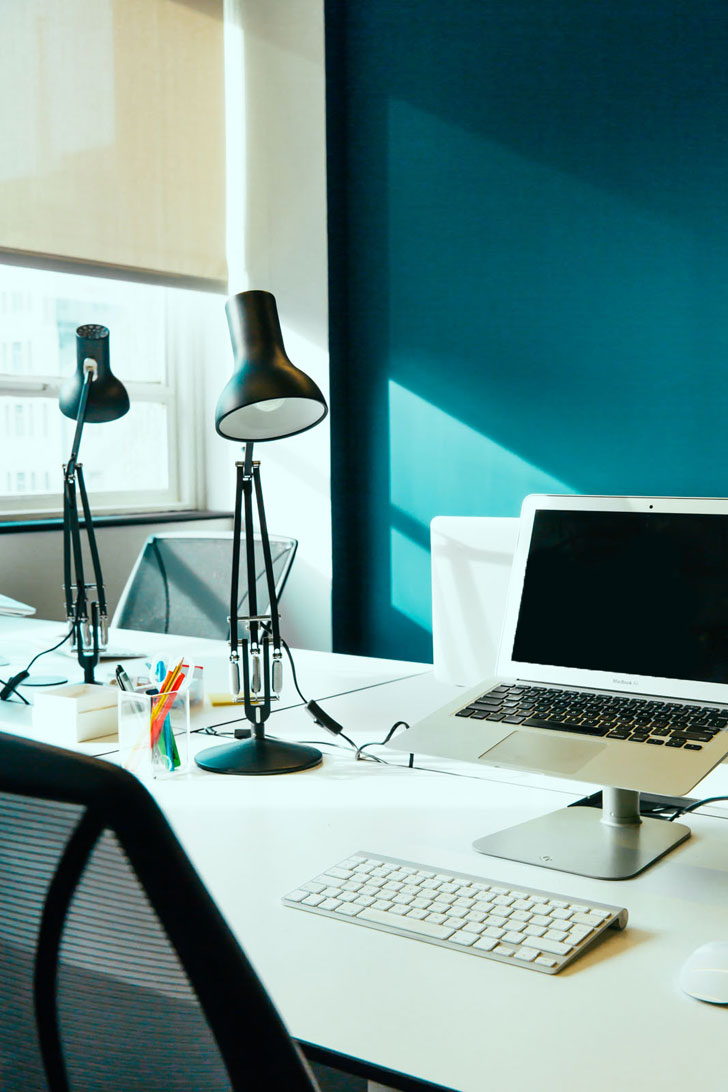 Painted walls and new desklamps customise space
A global movement
Co-working spaces have become an international movement with cities including New York, Berlin and Lisbon at the forefront. Location is key: shared spaces offer a central location at much less cost than a conventional office. 'It's good to say you have an office just off Regent Street or in Shoreditch or wherever you are trying to place yourself.' Celine lived in New York for a while, working out of NeueHouse, a shared space near Madison Square. It was an inspirational place, she says, with amazing facilities: 'There was a cinema in the basement, lectures in the evenings and incredible food. All of this kept people at work even longer. It also meant that they were proud of where they worked and were happy to show it off to their clients.' She wants to introduce some of the spirit of NeueHouse to the design of shared spaces in London.
Contact us if you'd like like help turning your office space into a productive and inspirational home-from-home.