We asked one of our designers how an interior designer can help to style and smarten up a property for sale or rent
It's competitive out there! The economic and political climate has meant that both buyers and renters are becoming very choosey. How can you make your property stand out from the crowd and win over viewers? This is where an interior designer comes in. They have ways and means of styling your property (called 'home staging') that will make it fresh, appealing and easier to sell. 'You need to present your property in the best light,' says Rebecca Lindon, 'and sometimes it needs an objective eye to see what needs adjusting.'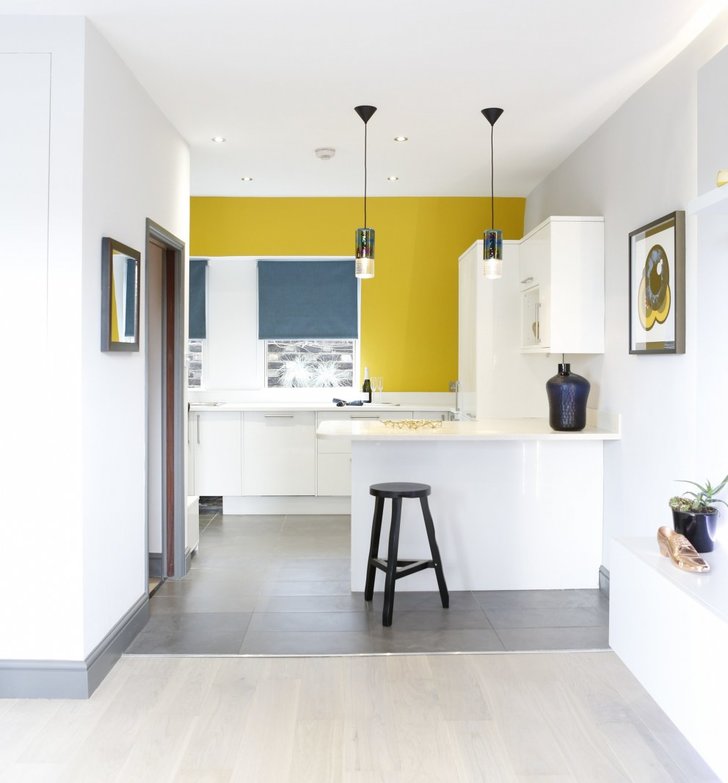 Kitchen refurbished and styled by Lindon Town
Help from an interior designer could take the form of a consultation where the interior designer visits your home to brain storm improvements. These meetings typically have a fixed fee agreed in advance and can be followed up with a summary of the designer's advice. For more hands-on help the designer can carry out the styling for you, organise any necessary repairs and redecoration, put unwanted items into storage and source new furniture, accessories and art work to give your place the wow factor. If you would prefer not to buy new furniture, this can be rented - your designer will know where to go.
Here are some of Rebecca's home staging pointers:
Curate what you already have
Many collections of personal items can be improved by simply moving them around. 'Mix different sized objects into attractive groups,' says Rebecca. 'Don't put all your chunky things together.' Select your best pieces of furniture and make sure they are shown to their best advantage and are not hidden by clutter. Move things off shelves and into cupboards, sweep children's toys into an ottoman or a storage box. 'Everything should have its place,' says Rebecca. 'It's important to be organised and orderly. Anything that doesn't work or isn't beautiful should be put in storage.'
Don't ignore the housekeeping
Rebecca stresses the importance of remedying any small housekeeping issues. Faulty spotlights should be fixed, grubby bathroom grouting should be bleached, cracked tiles replaced. 'You need to present the property in the best possible condition,' she says. 'Otherwise you create the impression that other, hidden things could be wrong.'
Clean work surfaces and wash the windows to move the light around. 'When people enter a space they need to feel immediately that it's light, bright, clean and spacious,' says Rebecca. 'I always make sure that plenty of skirting board is showing to create a greater feeling of space. In one would-be rental property, I took out all the personal pieces and some of the larger pieces of furniture especially to reveal the skirting board.'
And don't forget the outside of the property: 'It's important not to ignore kerb appeal,' says Rebecca. 'Paint the front gate, sweep the leaves, add a couple of planted containers on either side of the door. A good first impression is vital.'
Decorate and refresh
When it comes to decorating, nothing beats a lick of paint. 'Paint is transformative,' says Rebecca. 'It can cover up a grubby patch and make a room look fresh and clean.' In the bathroom, replace tired shower curtains and make sure everything is as clean and bright as possible. Dress the bed with extra cushions and throws and make sure that curtains are well hung, ironed and pulled back. And don't forget to buy generous amount of fresh flowers, preferably scented, and display prominently in vases.
Introduce 'hero' items
One or two carefully placed pieces of furniture can make a huge difference to a room, making it feel more luxurious and inviting. A consul table, a generous rug, a beautiful light or a painting can add that extra element. If it seems like an unnecessary cost to buy new pieces, ask your interior designer to hire them instead. They will know the best suppliers for this.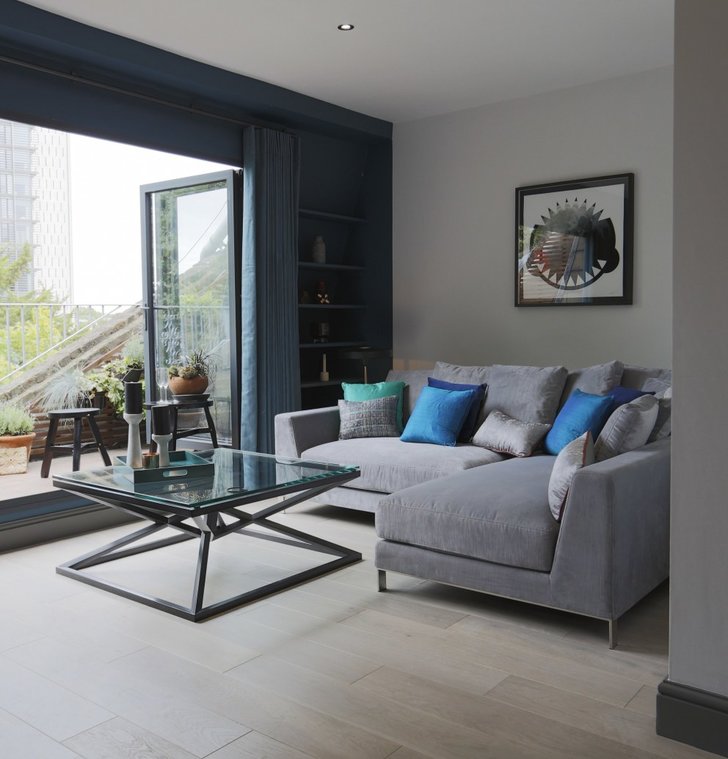 Reception room refurbished and styled by Lindon Town
Have we convinced you that home staging and styling your property can speed its sale? If this sounds like something you would like to consider, contact us and we'll put you in touch with the right interior designer for you.
Next time we look at a case study – the renovation of a two-bedroom maisonette in Blackheath.