Interior design has seen many changes over the last 10 years. We asked one of our designers to explain what it means for designers and for their clients
What has changed?
The consumer is a greater part of the process
'A decade ago, when the internet was in its infancy, clients would come to an interior designer with few ideas of what they wanted,' says Antonia Stewart. 'The designer had to lead them through the process.' Now, platforms like Pinterest and Instagram mean they can access an enormous image bank of looks, products and trends.
'Pinterest is a big thing for my clients. Rather than snipping images from magazines, they can show me their Pinterest boards at the briefing meeting. It helps me understand their taste quickly. For example, one client wanted a Spanish feel to her Pimlico home, complete with a matador's costume, a bull's head and antique blue and white azulejos tiles she had seen in Portugal. I filtered her initial ideas so that they were more coherent – the bull's head went but we still achieved a Spanish look with other elements, including bespoke tiles of hunting scenes which we installed in the kitchen.'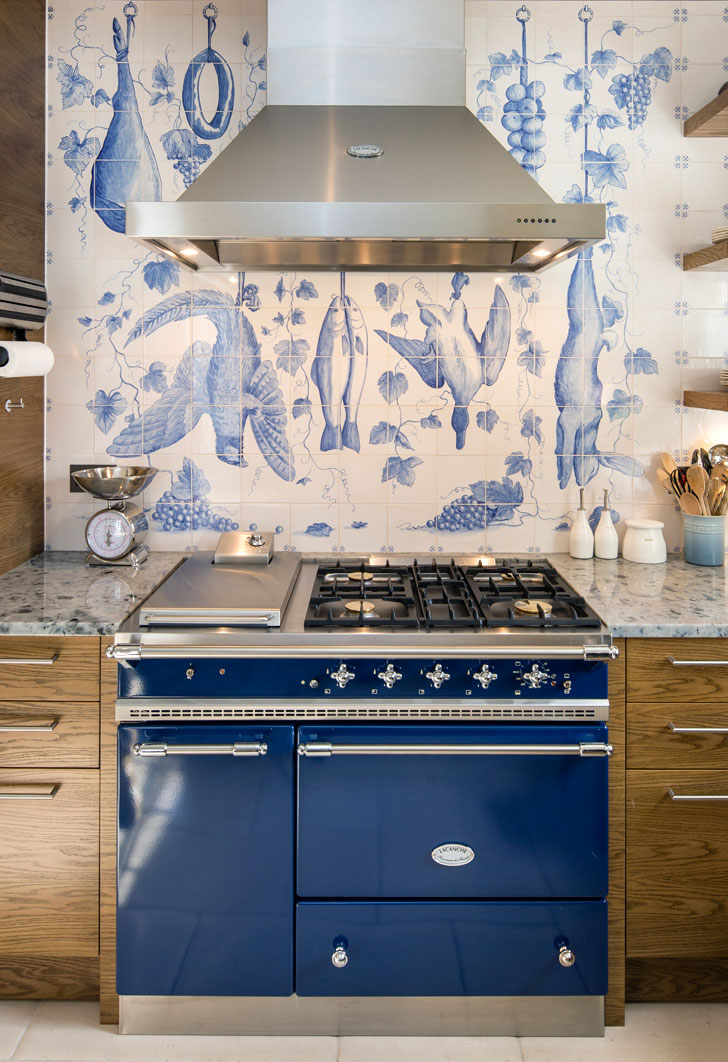 Bespoke tiles recreating the blue/white azulejos tiles requested by Antonia's client
There is so much choice, it can be overwhelming
'When I was growing up, many homes looked the same,' says Antonia. 'People would all visit the same shops and because of the limited number of products available they would often end up choosing the same fabrics. It's not surprising that Laura Ashley was everywhere!' Things are very different now – there has been an explosion of choice with an often overwhelming variety of wallpaper and fabric patterns and colourways to choose from. 'Some of my clients say the choice makes them go into meltdown,' says Antonia. 'It can be a bamboozling and exhausting process if you don't know what you are looking for – these days, fabrics come in countless different and subtle variations.'
Which is where an interior designer comes in: they will edit and curate to present their clients with a simplified and targeted choice. Antonia is enthusiastic about what is now available and doesn't want her clients to miss out because they are baffled by the options. 'There is so much cool stuff around,' she says, 'and interior designers know where to find it. Take outdoor fabrics – these used to be a range of uncomfortable, plastic-based fabrics in dull colours but as fabric technology has improved outdoor fabrics can come in numerous patterns and textures which in many cases are beautifully soft and comfortable.' Furniture, she says, is also being made in surprising materials such as perspex and carbon fibre, sometimes with interesting metal finishes. Because interior designers go to exhibitions and keep up their knowledge and skills through CPD (Continuing Professional Development), they know where to source the right things for the right price.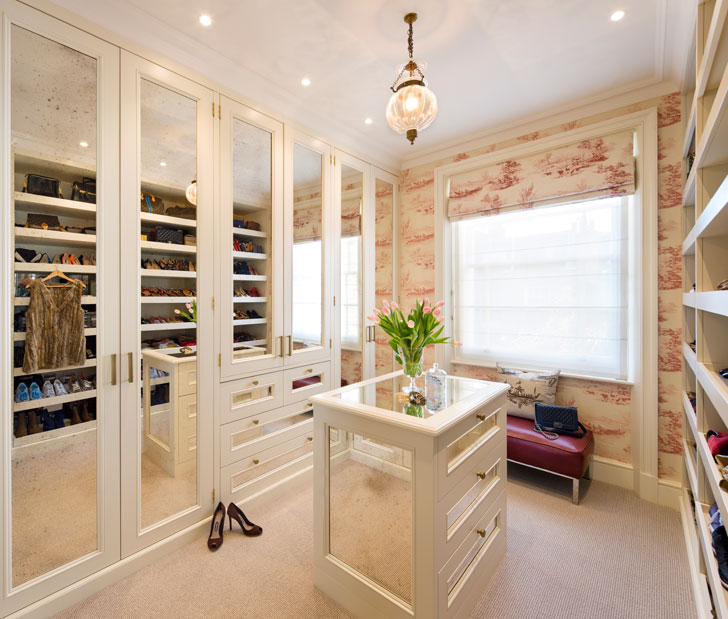 This dressing room was designed especially by Antonia to accommodate the client's 200 pairs of shoes and 100 handbags
Consumers confuse affordability with value
The omnipotence of the internet has meant that most companies, however small, have websites, and buyers have immediate access to a broad range of products at a variety of prices. 'A lot of high-street brands have come through, offering furniture at seemingly incredibly low prices,' says Antonia. The mistake that consumers make, she thinks, is that they confuse affordability with value. 'I always say it's better to have a "hole" and wait until you have found, or can afford to buy, the perfect piece of furniture to fill it.'
Interior designers draw on their experience, knowledge and trusted suppliers to help their clients find the right piece for their space. 'Many cheaper sofas are made from plywood and foam,' Antonia says. 'Whereas good-quality furniture is sprung, stuffed with horsehair and has beech frames.'
Furniture makers, sash-window makers and kitchen companies often encourage customers to come to their workshops to see what is involved in the making of their products. 'Once clients have seen the labour and the skill involved, they understand why they cost what they do,' she says. An interior designer will also re-cover or reupholster sofas and armchairs, thus extending their life and saving expenditure. 'You could buy three poor quality sofas in a row,' says Antonia, 'or one decent one, like a George Smith sofa, for example, for the same amount and have it re-covered.'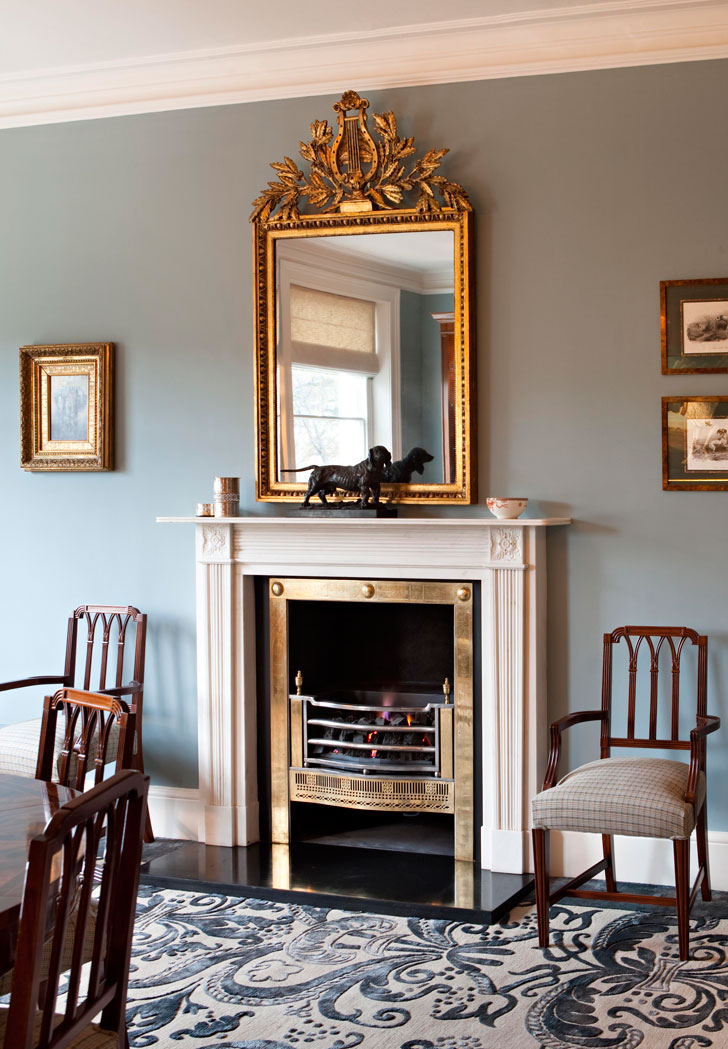 Antonia recovered existing dining chairs for the client to work with the new blue/gold/white scheme.
There are more interior designers now than ever before
The interior design industry is still unregulated, so anyone can set themselves up as an interior designer. 'There are designers out there who may have a good eye but don't have the experience or knowhow to pull a project together and bring it in on budget and on time,' says Antonia. The industry's professional organisation the BIID is striving for interior design to be regulated like any other industry. It has made enormous progress over the last ten years, including drawing up standard contracts that protect both the client and the designer, but there is still a way to go.'
At Interior Designers, we work only with professional interior designers whom we know to be good. We meet and vet each designer and get to know them and their portfolio before recommending them on a project. We are the only agency to offer every client a choice of two designers so that the client can compare, contrast and choose from a position of strength. So the solution for anyone looking for an interior designer is to contact us at interiordesigners.net and we will put you in touch with a selection of designers that we consider right for you. Who knows, one of them could be Antonia herself.
If you found this article interesting, you migh enjoy reading our articles on Why good quality furniture matters and How to choose the right Interior Designer