The owner of a Victorian terrace house in Clapham chose one of our interior designers to refurbish and revitalise her home. She tells us how it went…

Nina Maklin designed a sumptuous library with herringbone oak flooring, deep blue walls and brass accents
Finding the right designer
Jess Reoch was reaching the end of a three-year work secondment in the States and planning to return to London when she contacted Interior Designers. While she was away, she had rented out her house in Clapham and as a result, it felt bare and unloved. "I needed to make it feel mine again," Jess says, "and also my taste had changed, so it was time for a new look." Jess had also had a child just months before the tenants were due to move out, and was back at work, so free time was non-existent. "I decided that I couldn't go back to work, travel between two continents, manage my life and tackle the interior design, source samples and furniture etc, without help."
Although she had plenty of thoughts about the style and feel of her new interior, Jess was at a loss about how to implement them. "I had no idea about how to work with an interior designer," she says. "No idea how much budget to allocate to each room, and no idea how much they would charge." Which prompted her to contact us at interiordesigners.net. After an initial conversation and by studying her Pinterest board, we were able to recommend a selection of designers that we considered a good match. Jess chose Nina Maklin: "Nina came back to me with an amazing presentation. She immediately understood me and knew what I wanted. She just got me." Nina also suggested things that Jess wouldn't necessarily have thought of: "She pushed my boundaries, which was what I wanted. She was a little more expensive than the other designer but the chemistry between us was just right, so I decided she was worth it."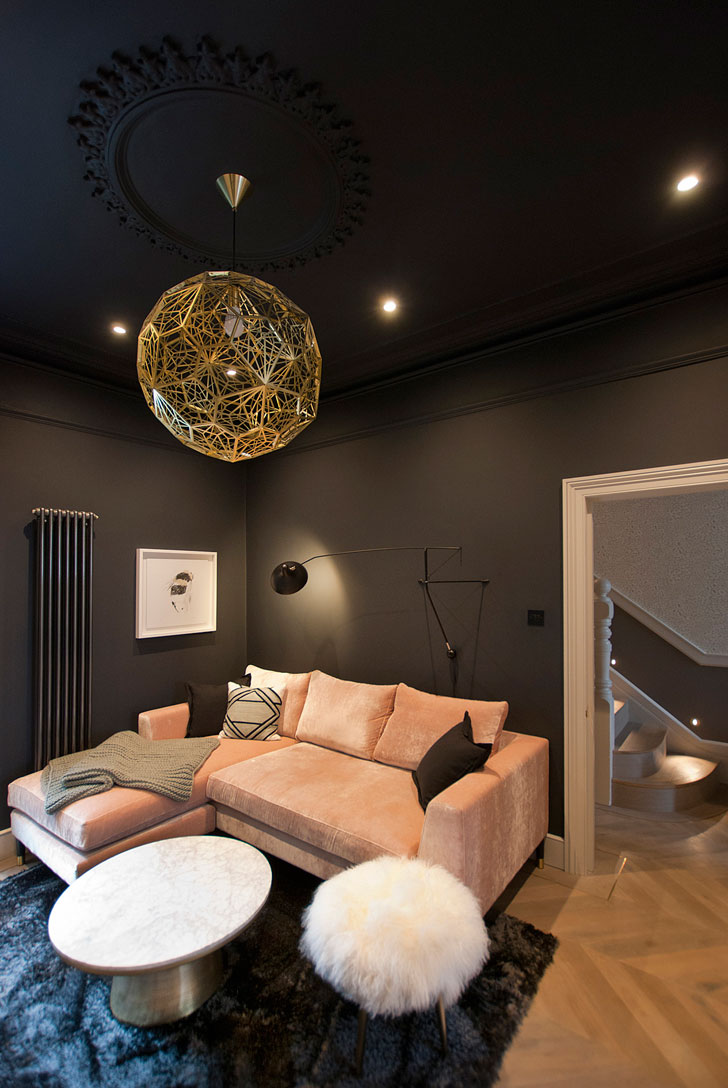 The snug has black walls and ceiling and a decadent pink velvet sofa
A transatlantic relationship
Jess and her husband bought the house in 2011. It had been untouched for over 30 years, so they had to redo the plumbing and electrics, fix the floorboards and give it a fresh lick of paint. They considered just having the kitchen area done but realised this was not going to be enough. Following discussions with Nina, everything except for three bedrooms, got a new look. This included the kitchen, library, snug, toilet, bathroom, their son Louie's bedroom, and the master bedroom.
As Jess was still in the States, she and Nina communicated via email and Skype with Nina refining her presentation and proposals following each discussion. "She often gave me two or three options to choose from," says Jess, "so I could say what I did and didn't like." Nina also sent a package of samples of fabric, paper, tiles and carpet for Jess to choose from.
They first met a month before the work was due to start, when Jess was travelling in Europe for work. "I met her at a showroom," Jess says, "and we looked at some samples there before I got a flight back to Spain. It was a different process to how she normally operates because I was on the other side of the Atlantic." Being in close contact, despite the odds, meant that all the prep was done before the work started. "Everything was chosen," says Jess. "It was a great process. Nina also suggested we engage with a lighting designer early on, which was really helpful."
By the time Jess and her family were back in London, building work had started and she began meeting with Nina weekly. "The project was delayed because the builder didn't order the windows for the kitchen in time and we had pushback issues," says Jess. "But Nina kept us sane. She also found a brilliant carpenter who made the kitchen, wardrobes, vanity units and headboard in the bedroom, built the storage in the loft and created a bar, complete with optics, and a tea point which are both concealed in cupboards in the kitchen."

A bar, complete with optics, has been fitted into a kitchen cupboard
A luxurious but comfortable home
When choosing the style and furnishings of her home, Jess had clear ideas about the sort of look she was after. "Nina made me fill out a questionnaire about how I wanted the house to feel. I said I wanted it to feel homely but luxurious. I wanted adult areas and I wanted people to feel comfortable. I also wanted it to be a house for entertaining. I didn't want it to feel like a show home but I wanted it to have a bit of drama."
Nina pulled this off with aplomb, creating a home that feels luxurious but not ostentatious. Much of this is a result of the choice of materials, furniture and the use of a restrained palette that Jess describes as "six to eight muddy, sumptuous and luxurious colours". One piece of black and white marble (sourced by the carpenter) broken into component parts, is used for the worktops in the kitchen, and travertine marble sourced in Italy coats the walls of the bathroom in huge, generous slabs. The walls of the downstairs toilet are clad entirely with mirror tiles from Fired Earth ("People don't expect that!" says Jess) and brass appears throughout the home as fittings in the bathroom, inlay in the flooring, extractor fan and spot lights, and as a surround on the arch between the snug and library.
"Nina pushed me and introduced me to things I wouldn't have thought of," says Jess. "The swivel chairs in the kitchen are upholstered in velvet, for example. I didn't realise you could use velvet in the kitchen, but this is commercial grade velvet so it is hard-wearing. And when we were looking for tables and chairs, she always found just the right thing. If it had been just left to me, I would have had to spend every evening crawling over the internet."
It isn't just the time saved that Jess is grateful for, it's that Nina understood what she wanted and wasn't too over-powering. "I can't thank Nathalie at Interior Designers enough," she says. "She was the one who matched me with Nina. I would never have met her otherwise."
And she would never have created her beautiful, bold and luxurious home.
Read about another client's story here. We'd love to hear about your project too!
Next time, Nina tells us about her side of the process.