We asked one of our designers why both are vital in an interior design project, and this is what she said…

Dressing room in a duplex, Old Street, London, by YAM Studios.
'Good joinery makes an impact'
Bespoke joinery means you will get a unique, tailor-made space. This is especially true on larger projects such as kitchens. 'The amount of joinery required in an interior depends on the size of the project,' says Kashi. 'We design kitchens from scratch: carcasses, worktops, doors and splashbacks are all made to the client's specifications.' This can elevate the result from that offered by kitchen designers. 'Kitchen suppliers offer limited options for finishes and sizes which are not always right,' says Kashi. 'There are no boundaries with a bespoke project.'
'Joinery solves storage problems'
There are two types of home storage: open (shelves) and closed (cupboards). Open storage is used to display books, favourite pieces, photographs etc, and closed storage is used to hide things away. 'Most people have loads of stuff cluttering their homes,' says Kashi. 'They are drowning in it! Custom-made storage tucks it out of view.' Carefully considered joinery makes the most of the space in the home, including awkward corners, such as under a staircase which can be used to house brooms and jackets. It streamlines rooms and makes them more efficient. 'We always ask clients for a list of items they need but don't want to see,' says Kashi. 'In a home office, for example, the printer, plugs and cables can all be hidden away.'
'Joinery creates a smart, clean look'
'I prefer a clean, simple, minimal look,' says Kashi. 'Joinery enables me to create this. It means I can hide drawers behind a door, for example – I don't like visible drawers!' She is also a big fan of shadow gaps – a gap created by joinery between the wall and floor that replaces skirting boards. 'Shadow gaps do not stick out and collect dust,' she says. 'They are good for two-material transitions. They look neat and sharp.'
Lighting can also be incorporated neatly into joinery – under wall units, for example, or inside a wardrobe in a master bedroom. 'It creates a nice cosy feel,' says Kashi, 'which adds warmth.'
Kashi usually designs the whole interior so the look is consistent throughout the house. 'I always explain the options to clients and give guidance,' she says. She also warns clients to have realistic expectations about the cost. 'Joinery can represent a big chunk of the budget,' she says. 'So prioritise what you want to spend it on. Cut costs on children's rooms which get a lot of wear and tear, and concentrate instead on the living room, master bedroom, library and the kitchen.'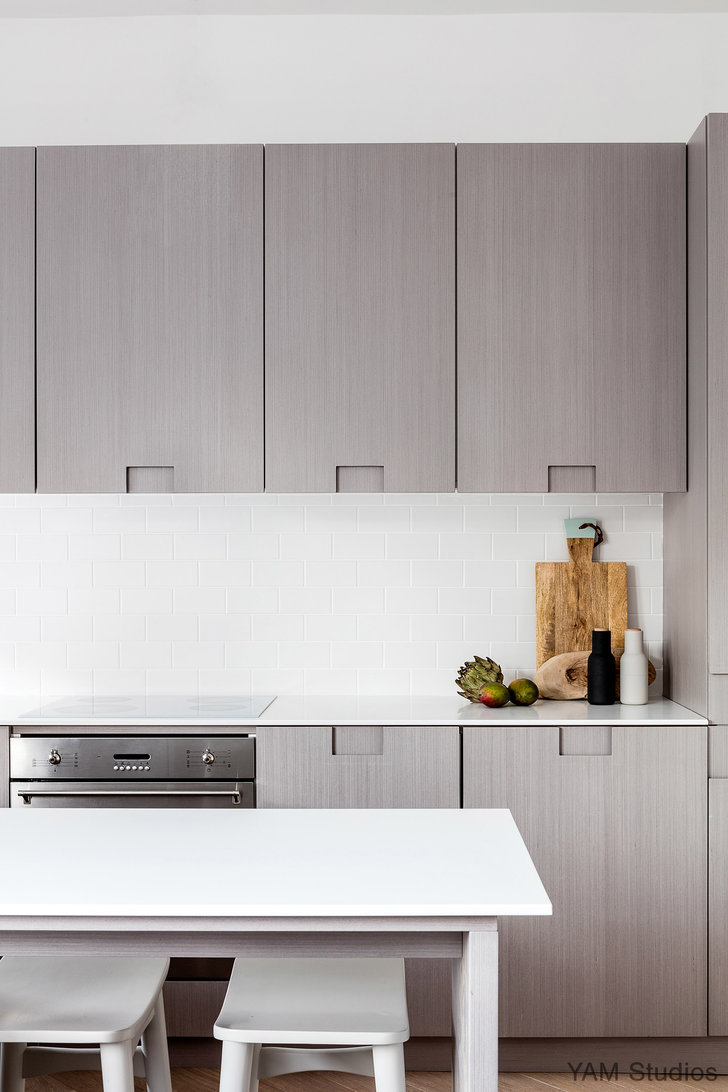 Kitchen cabinets in an apartment, Brixton, London, by YAM Studios
'Attention to detail always shows'
Nothing says 'shoddy' like a poor finish, whether is wonky wall studding, a poor silicone seal around the bath or sticky cabinets. 'Lack of attention to detail is easy to spot,' says Kashi. 'Shelves stick out further than the walls; joints are messily executed; the joinery is not nicely finished or has too many different textured veneers; knobs and handles can be chunky and ugly.
'Mechanisms such as hinges in bathroom cabinets often reveal the quality of the work, too. Often they don't work properly and become irritating. MDF is also used in bathrooms, for example, when marine ply is a much better option.'
This attention to detail applies to internal finishes, too. 'I like to install a beautiful hinge that is only visible when a door is opened,' says Kashi. 'Or to line a cupboard with wood laminate finish, so that it looks good inside and out.'
When a designer keeps on top of the details – and on top of the builder who is implementing them – an excellent, satisfying finish is the result. One that creates a streamlined, fully-functioning but warm and cosy home. Put simply says Kashi, 'Good joinery improves quality of life.'
Next time: Can a UK interior designer help with my project abroad?