We turn the tables and talk to the designer we matched with our Clapham client about why their project was such a success
A match made in design heaven
"My favourite part of the design process is at the beginning when everything is still possible," says Nina Mäklin. "I love coming up with the design, having ideas and discussing them with my client. Although I also get a lot of satisfaction seeing things installed and my ideas realised."
This process is especially rewarding when she feels in tune with her client. "Nathalie at Interior Designers is very good at matching designers and clients," Nina says. "She knows my style and what kind of project it suits." So, when it came to turning Jess Reoch's tired Victorian terrace into a comfortable and luxurious family home, Nathalie thought of Nina. It was a match that proved especially successful. "Jess and I got on really well right from the start," Nina says. "We liked similar things and we had an understanding. And she had a really strong style and a clear idea of what she wanted, which was easy to build on." (For Jess's account of the process, click here.) As well as looking at interiors that Jess liked, Nina asked her about her clothes. "Jess is fashion orientated and I'm influenced by fashion and art, too, so I was able to pull things from those areas. I asked who her favourite shoe designer was, for example, and that helped me understand what she really liked in terms of design."

The dark and cosy snug with its opulent pink velvet sofa
Adjusting the interior design to a new lifestyle
Nina also had to take into account Jess's change of circumstances. She and her husband were returning home with their young son after working in New York for three years. The house they were coming back to in Clapham was no longer fit for purpose. "Now they had a child and established, professional careers, they wanted a real grown-up home," says Nina. "I always consider the client's lifestyle before I think about the design, and I wanted to make sure the home functioned in the way they lived as a family."
Realising that some rooms were hardly used, Nina decided to repurpose them for the family's new way of living. "The way I saw it," she says, "was that they would want space to entertain. With a young child, they weren't going to be going out as much." She turned the front room into a library where friends could gather for a glass of wine, and the middle room became a snug. "A new extension had been built as part of the refurbishment which meant that room lost its natural light," she says. "So I thought, let's make it even darker, really cosy, somewhere to snuggle up and watch movies." She made the bold decision to paint the walls and ceiling black, and furnished the room with an opulent pink velvet sofa. All the finishes, and those of the library, are what she describes as "a bit more prestigious" and create a demarcation between adult and child areas.

Bespoke cupboards hide everything away in the kitchen/dining area
Adventures in design
The kitchen and dining area in the new extension became the family space, but not at the expense of sophistication. "It's more informal and less precious," says Jess, "but it is still smart enough to drink coffee in after a meal." To achieve this, she worked with Chris, a trusted furniture maker with whom she has a long working relationship, to create cabinets where everything could be tucked away. The TV slides out of a cupboard, the fridge pulls out from another, and there is a tea point in a cabinet where the kettle and the mugs are kept out of sight. There is also a bar, complete with optics, hidden behind another door: something Nina had had in mind for ages. "I wanted the kitchen not to feel like a kitchen because I knew they would spend a lot of time there," she says. "The cabinetry isn't kitchen-like. It feels more like a furniture."
Many of the early stages of the project, including the building of the extension, took place when Jess was in New York, so she and Nina communicated via Skype. This distance also meant that for the first couple of months, when the extension was being built, Nina became Jess's eyes and ears on site. "She really had to trust me," she says. "Which she did."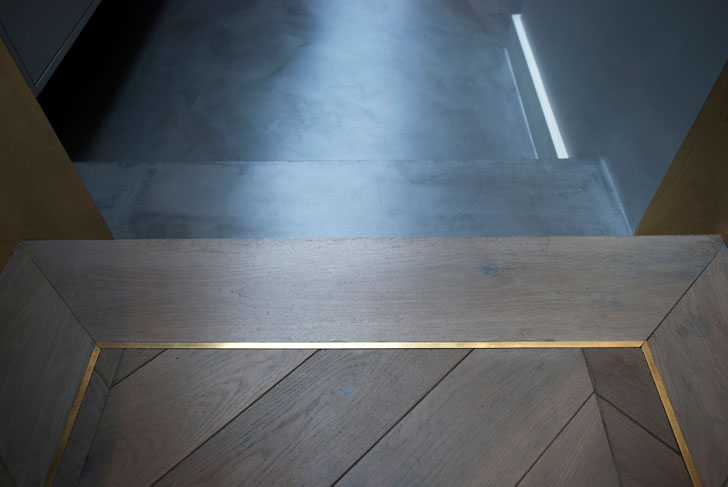 A brass edging runs around the herringbone oak floor
Jess also learnt to trust some of Nina's more adventurous design decisions. "Inevitably, all projects are informed by style," says Nina, "but the luxury and the drama was really turned up on this one!" Most striking was the bold colour palette of dark hues in the library and snug, which are accented with metallic highlights. Flashes of brass appear as details in light fittings, as edging around the herringbone floor, in the arch leading to the kitchen and even as a lining in the extractor fan. "I had wanted to create a brass doorway for ages," says Nina. "Chris and I had talked about that and the extractor fan before; we are like two geeks and send each other ideas all the time. Jess gave us the permission to bring those ideas to life. It was great to find a project where my ideas chimed with the client's and I could implement them."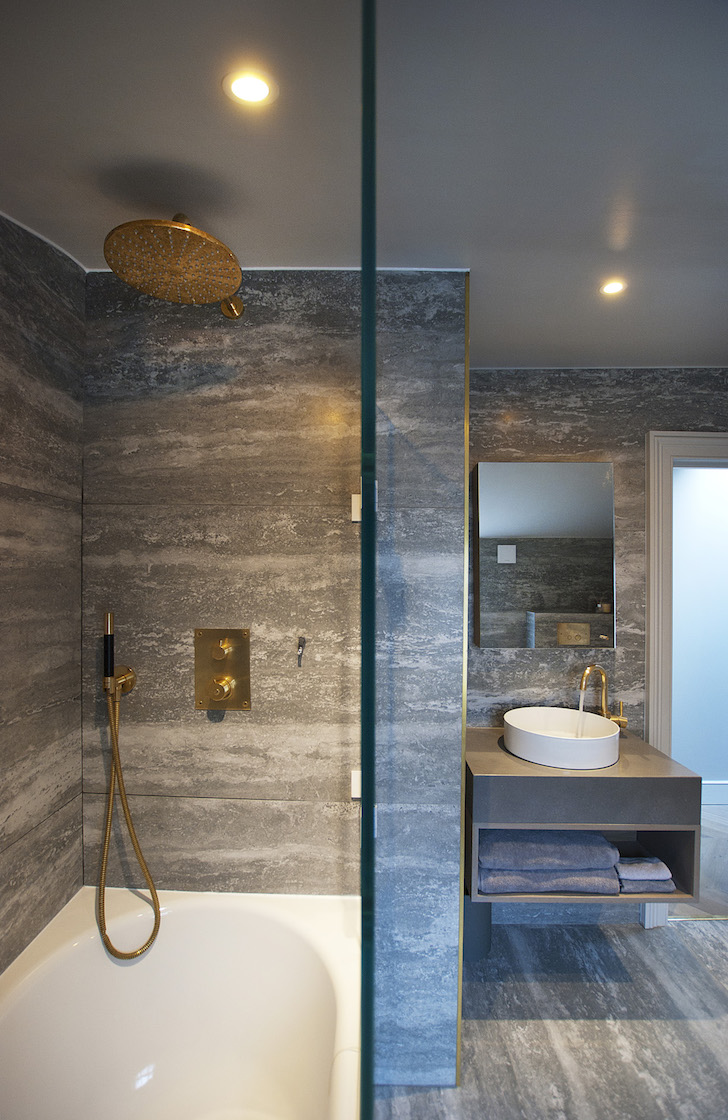 Brass accents were used in the master ensuite bathroom
A collaborative process
Nina places great value on working with skilled tradesmen to pull off a successful interior. The beautiful oak, herringbone floor with its brass inlay was installed by a trusted professional who enjoyed the fresh challenges it presented. "He hadn't laid an inlay like that before," says Nina, "but I knew it could be done because I had seen it in France. He rose to the challenge and was able to realise my vision."
Similarly, Nina had to explain the decorative scheme to the lighting designer so that she could use her technical knowhow and knowledge of different fittings to create the right warmth, colour and tone throughout the home. "I let her know, for example, what colour paint I had chosen and she recommended the perfect lighting" says Nina. "She also knew which supplier to approach to source the right technical fittings" while Nina specified the decorative fittings.
The result is a home that Jess and her family love living in and that Nina is proud of. "Even though it is all about the client, I have to be happy with it, too," says Nina. "I could happily live in this house myself!"
To read another client's story, click here
Next time, working with an interior designer to find the right antiques and art for your home.