From customising picture frames to displaying sculpture, we discuss how best to use and display art in your interior design scheme and how an interior designer can help

Paintings are hung in groups in the Salvesen Graham showroom
How an interior designer can help
No one can select a piece art for you – it has to be your personal choice – but an interior designer can present options and advise. If displaying art or buying new pieces is a consideration for you as you plan your project, get in touch with us and we will match you with a designer with the relevant knowledge, experience and contacts.
Nicole Salvesen, of Salvesen Graham, is one such interior designer. She has applied her integrated, layered approach to interior design on many schemes, from stately homes to contemporary apartments, and understands the important part that art plays in a home. 'Art finishes a room and adds a personal touch,' she says. 'We always include it as part of an interior scheme.
'At the same time, our interiors are visually balanced, so art doesn't dominate. We make sure that no element fights with another – if the client has a painting with a distinctive colour, for example, we include something else with similar weight as a counterpoint.'
Whether fine art, antiques, abstract or textiles, she will make any existing pieces you have work within the new scheme and help you source new ones. 'One of the first things we do when we start a project is take an inventory of what the client already has,' says Nicole. 'Then, all through the project, we bear this in mind when considering the spaces that need antiques and art.'
Often ignored places like hallways and and corridors also benefit from the addition of art or piece of sculpture. 'A neutral hallway with a really fabulous painting is a lovely way to enter the home,' says Nicole, 'and corridors which don't have windows or upholstery will benefit from a piece of art or a textile which will provide pattern and interest.'
Budgeting for and buying art
Most interior designers will encourage clients to budget separately for fine art and antiques. 'We always advise that they have one budget for the project and another for art and antiques, especially if they intend to buy a special piece,' says Nicole.
She works with various art consultants who operate at different levels and who can source work suited to different budgets, from inexpensive vintage and fine art prints ('perfect for back rooms or little areas that need to be filled') to investment pieces. Following a meeting with the client, the consultant will put together a pack of options for them to consider. Nicole points out that some of her larger projects can take up to two years, so there is no hurry to make a decision.
She also acknowledges that buying art is a gradual process and sometimes the client isn't ready to spend a lot of money, in which case, the lower cost option of prints or photographic art makes sense. 'Especially for those smaller areas that need to be filled; where it's better to have something on the wall than nothing.'
Nicole accompanies clients on shopping trips to art fairs and galleries, as much as to understand her client's taste, as to buy. 'Buying art is so personal,' she says. 'It's not my place to push a client into buying something, that's why a separate budget is important.'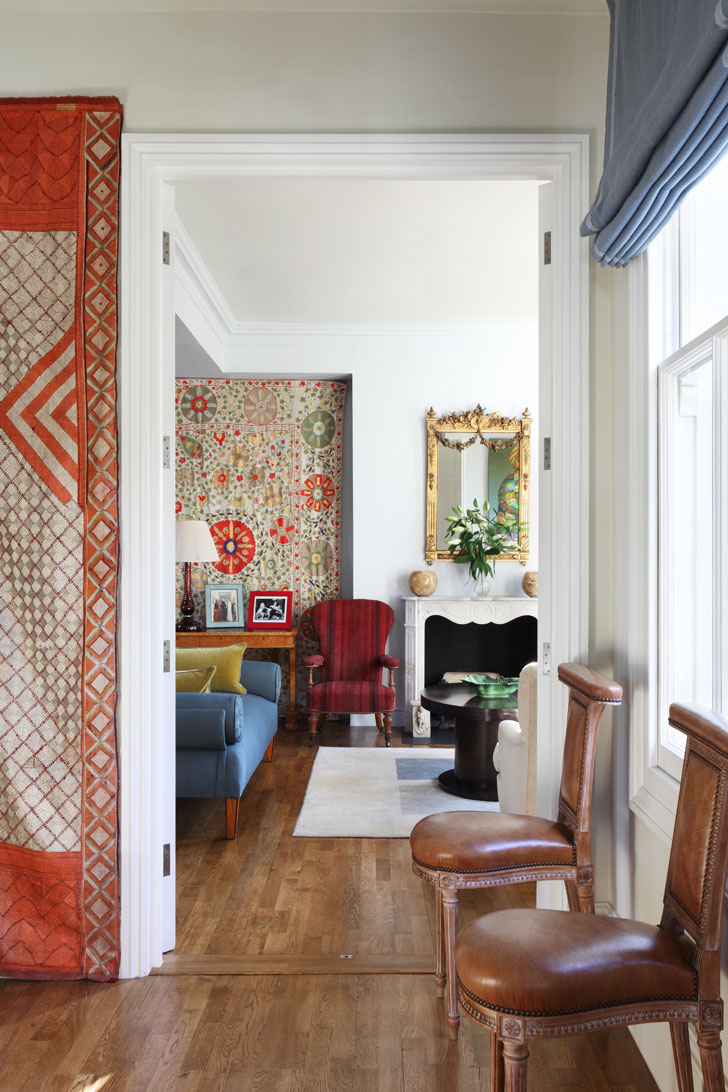 Nicole hung textiles on the walls of this apartment to introduce colour and pattern
What art to choose
When it comes to choosing the right piece for your interior, there are many different types of media to consider, beyond framed paintings. 'A piece of furniture can look fabulous with sculpture sitting on it,' says Nicole, 'or if a space needs a stand-alone piece, we will design joinery to make sure it's displayed appropriately.'
She also hangs textiles on walls, an affordable and colourful option that brings pattern and texture into the scheme. 'I like embroidered textiles, like Sezani rugs, which I hang from a bar and add a weight to the bottom. They sit very well in an interior.'
Contemporary homes can suit what Nicole calls 'wow pieces', whether that's a neon installation or a larger mixed-media piece. 'We can make anything work,' she says. 'It's part of our layered approach to interior design.' Recently she had to crane a large piece into an apartment in Chelsea. 'I watched as it flew through the rooflight, and is now entombed there.'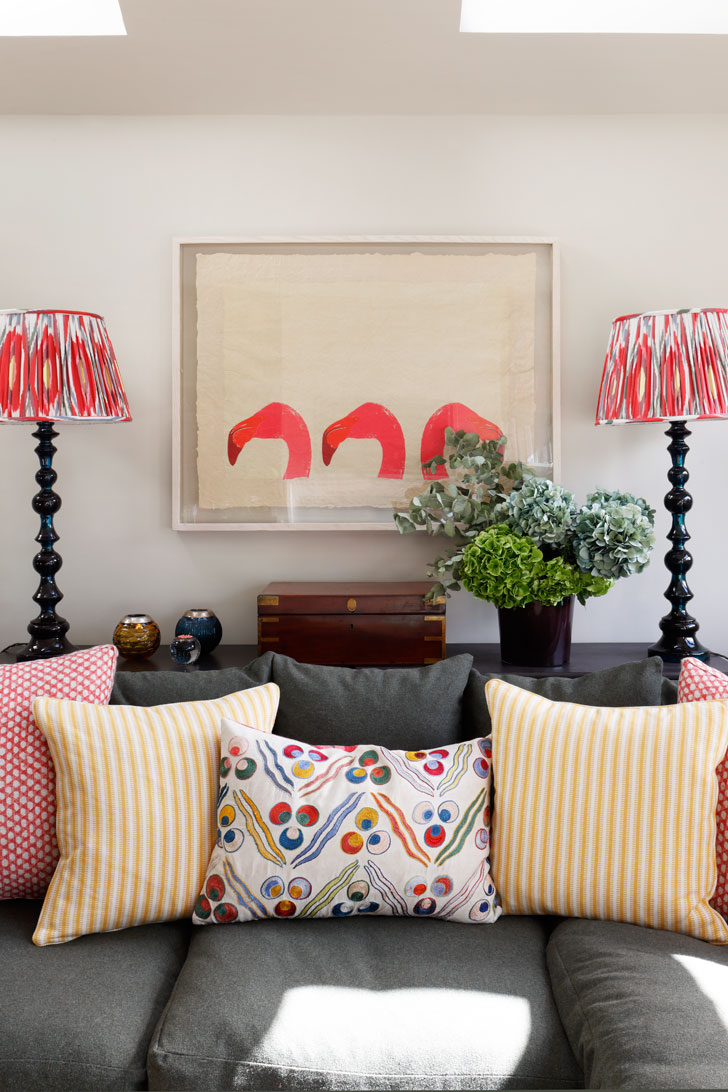 The colours of the print are picked out elsewhere in this interior designed by Nicole
Why framing is important
In an ideal world, every interior would have extraordinary work by well-known artists but in reality most of us have a collection of pieces, including the small and sentimental, all of which come alive if they are framed sympathetically. 'We would frame a postcard if the client really loved it,' says Nicole. 'An interesting and beautiful frame will turn it into a something entirely different.'
A client might also have a piece they no longer love but have to keep – a new frame can transform it. 'That's where art and interiors combine. We can reframe a painting according to the interior scheme, or paint the frame a different colour, and it looks totally different. It's our job to make it work.'
She cites a recent example where a predominantly green painting with a green frame hung in a drawing room for years. The client was tired of it and it didn't suit the interior, which was not green at all. Once it was reframed in a French polished mahogany frame, it suddenly worked in the space and the client loved it again.
Nicole has good relationships with a variety of framers from less expensive to the more costly, depending on what's required. A simple off-the-shelf frame for a child's bedroom would suit one framer, whereas as new frame for a larger, investment piece would suit another.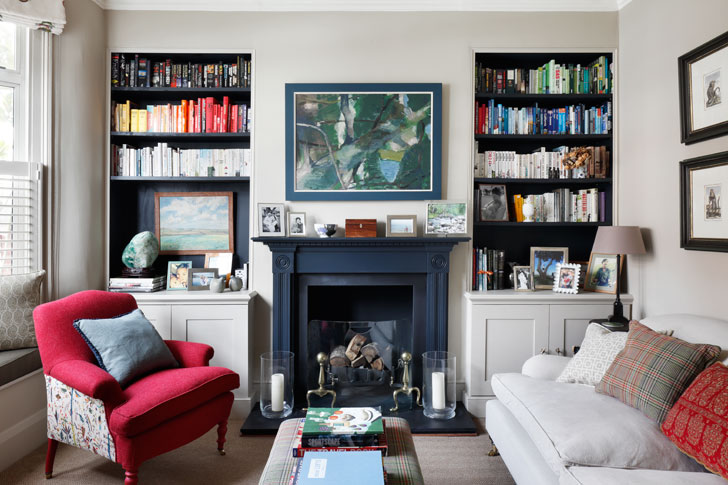 Painted frames are a good way to revitalise a painting, as in this interior by Salvesen Graham
Lighting, hanging, displaying
Every piece of art needs the right lighting to display it properly. Nicole always considers the lighting at the start of the project and factors it into the design. 'Even if the art hasn't been bought yet, we make sure that lighting options are in place, such as ceiling lights or clock points, so that we can wire up lights further down the line,' she says. 'It's a case of future proofing, essentially.'
When it comes to hanging the work, she prefers to work with specialist hangers. 'Hanging is a real skill in itself,' she says. 'Left to their own devices, people often hang too high or dot art around the house rather than group it together. Recently we ordered one big group of pictures to be hung as a straight-line grid. Another project was treated more like a gallery. There is no end of options.'
When it comes to buying art, Nicole says there is no right or wrong. 'If you like the piece of art, and it's your choice, it's never going to be a mistake.'
Next time, we consider lighting in an interior design project.