An interior designer will help you understand how to make your new space a perfect match not just for the rest of the house but for your lifestyle, too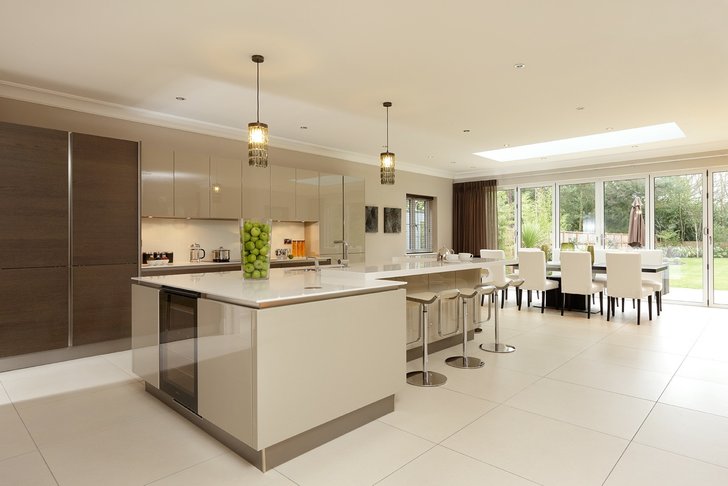 A groundfloor extension by Edita Sykora of The Sugarcube Interior Design Agency
It is easy to embark on an extension without taking time to consider what lies ahead. Remember that this is not simply a construction project but an extension of your whole way of life, so needs careful consideration. Which is where an interior designer comes in. Involve one right at the start, working alongside the architect if you are using one, and their expertise will help you create a usable, attractive space that suits you and your family and do it with minimum fuss.
The most popular extensions are open-plan kitchen/living rooms but the same rules apply to double-height extensions that incorporate bathrooms or extra bedrooms or the conversion of a garage into a bathroom. The trick is to think of the space in terms of 'who and why' rather than 'what and where'.
'You must have a whole lifestyle discussion with your designer,' says one of our designers Edita Sykora of The Sugarcube. 'Then, with the aid of plans and 3D images, they will help you create different zones for different activities and consider details like furniture layout and door placements, that will really suit how you live.'
An interior designer will also talk you through these key questions:
Have I allowed enough time?
Many home-owners underestimate the length of time needed to build an extension. 'It's important that clients understand the process and manage time expectations,' says Edita.
Working with one of our designers from the outset will minimise delays. They will draw-up and manage an order of work to ensure supplies arrive in the right order and at the right time and will remind you of anything that is time-sensitive. This prevents builders walking out or charging extra fees if there are delays, and ensures minimal disruption caused by access. 'Designers also have an extensive knowledge of product and suppliers,' says Edita, 'and will save you time and money by editing your choices, then ordering them and dealing with suppliers. They will also be on site if necesssary.'
Edita also points out that projects are often slow at the start when the foundations are being dug and the concrete is setting, but once the shell is in place, things happen quickly and builders will want answers immediately. Your designer will be there to supply them.
Should I involve the neighbours?
Any new extension will affect those living either side of you, especially if you share a party wall. Your designer will work with a structural engineer to survey the site and draw up a party agreement. They will also be able to advise on whether it is a permissable extension and if a planning application is necessary.
'A designer will ensure that the calculations on the planning application are accurate,' says Edita, 'This will speed up the process and make it more manageable.'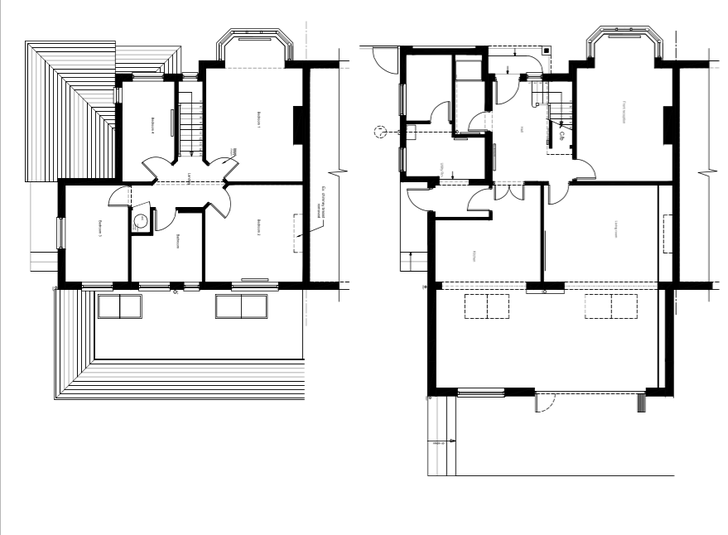 Plan of two floors before extension, The Sugarcube Interior Design Agency

Plan of proposed double-height extension, The Sugarcube Interior Design Agency
Have I got the details right?
Once the initial plan has been finalised, your designer will draw up a more detailed one, above, which will include furniture layout, lighting, plumbing, heating and electrics.
'Often clients go straight from getting the architect's plan to asking builders for quotes,' says Edita, 'and forget about the details or developing ideas.' Involve a designer right from the start and you will have a considered and realised plan. Most designers produce several versions until you are totally happy with it, and will take into account where task and mood lighting should go, where are the best places for electrical sockets, where to position radiators, whether you need an RSJ and if so how to integrate it into the design, the interface between indoors and outstide, and different options for kitchens and bathrooms.
What about the windows?
Many new extensions have at least one wall-to-wall window; some have three. Whereas the benefits of this glazed box are plentiful, there are also things to consider. Do you choose spray-coated aluminium frames rather than uvPC or wood? And how do you maintain privacy ie what window treatment is best to cover what is, in effect, a wall of glass?
'The minimal look allows masses of light in and looks amazing,' says Edita, 'but it has challenges. If you want curtains, you will find that the cost of tracks and fabric can be high. And if you prefer blinds, you need to consider how to operate them: electronic window treatments are very expensive, for example. You will also need to leave space for a curtain track or a pelmet.'
Chat through these questions with your designer and you will get what you really want from your extension: a space that suits how you live now.
Next time: moving into a new build? What are the options?