Seamless design solutions and financial savings are just two of the benefits of using a combined practice. Explore...
At interiordesigners.net we have found that there is an increasing demand for a 'one-stop' shop when it comes to projects which necessitate and architect and an interior designer. Instead of clients having to instruct separate practices, we are able to recommend a combined practice that deals with both. This joint approach means that projects involving the reconfiguration of the space and an interior refurbishment are considered together, resulting in a cohesive and seamless outcome.
One of our designers, Linzi Kettle, is the interior designer part of the equation at Granit Architecture + Interiors. Linzi did an architectural degree, then joined Granit as an architectural assistant before moving over to the interior design side, so has a good understanding of both disciplines. We asked her about the advantages of working with a combined practice and what it entails.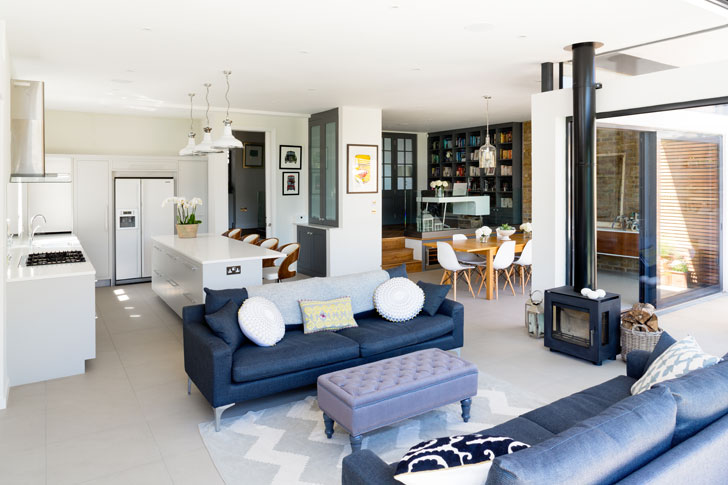 Granit built a new ground level extension and carried out a full refurbishment of this property in Wandsworth. Photograph by Andrew Beasley
Interior design is considered right from the start
Linzi and her interior design team are involved from the earliest stages of the project and work alongside the architectural team throughout. 'It is particularly useful early on as we are able to have a say in the layout of spaces,' she says. 'If they are planning a rear extension, for example, we can say that we need a certain amount of space for the kitchen.'
Although Linzi is sometimes brought in just to do the interior design after planning has been approved, most clients sign up for the whole project from start to finish. 'I'll go to the initial meeting when the architectural team present their feasibility options in terms of layout,' she says. 'I bring along a heap of images that I have picked out specifically for that project and are related to the feasibility sketches. Sometimes we have little information on what sort of style the clients want, so we make an educated guess. We start with generic images until we have a greater understanding what they want the client likes in terms of colours, finishes, furniture, kitchens etc.'
Once the conversation has started, Linzi and her team go away and refine the choices. 'We take the architectural team's existing drawings and start sketching proposals for the client based on their brief,' she says. 'Obviously they don't have to make many decisions until after planning has been approved.'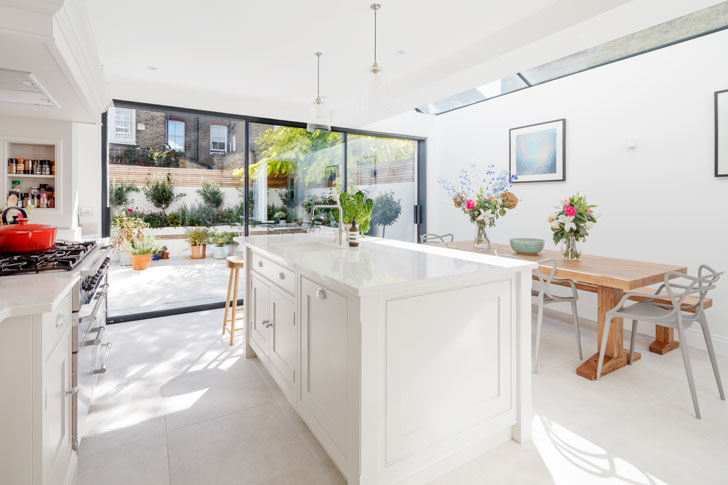 Granit opened up the back of this Victorian mid-terrace house in Battersea by adding a pitched glazed roof and sliding doors. Photograph by Andrew Beasley
Waiting for planning permission can be a positive experience
Most of the private residential projects undertaken by Granit are either rear extensions or loft conversions. 'One of the most popular is opening up the back of the house to create a large kitchen/dining area that connects to the garden,' she says. 'Loft conversions most often include a bedroom and a bathroom, but the creation of a study space is also popular.'
The architectural team draws up the plans and submits them for approval, a process that can sometimes be frustrating and time-consuming. Rather than being an annoying delay, however, the time spent waiting for planning permission is put to good use by Linzi and her team: 'There may be aspects of the job we can progress with during the planning process,' she says. 'For example, if we're doing a rear extension as part of a whole house refurbishment, we can get on with the first floor bedroom and any joinery.' Any risk of this being time wasted if planning is refused, is minimised as this work is usually in the pipeline anyway, whether or not permission is granted.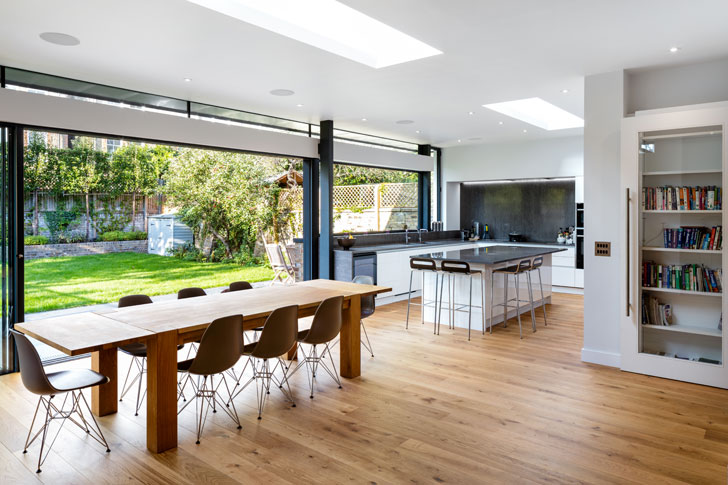 The interior design team designed new storage, shelving and planned the kitchen while the architects drew up plans for this new kitchen/diner. Photograph by Andrew Beasley
It's a three-way conversation
One of the joys of a joined-up approach is that both teams know what the other is doing. 'The interiors team is copied in on any communication between the architects and the client,' says Linzi. 'The emails don't necessarily have any relation to the interior design but they help us understand why the space has been designed in a certain way, or why a structural engineer has placed a steel in a certain location, for example.'
This transparency helps Linzi to understand the project as a whole, and then to explain to the client how this affects design choices. 'We're working on a large project at the moment – a basement with a pool – and the interior team was heavily involved at the feasibility and planning stages. As a result, we know exactly what the client is after and have a head start when it comes to the materials we are going to propose because we've had all the conversations before it has gone to planning.'
Lines of communication are simplified
A combined practice means there are fewer people to deal with throughout the process. At Granit, clients deal with an architect (who has a number of assistants depending on the size of the project) and Linzi who heads up the interior design team. The amount of contact depends on the client's needs. 'Generally there is a good amount of communication throughout,' says Linzi, 'but we do have clients who are abroad and leave us to get on with it, checking in with Skype calls and the occasional face to face conversation.'
Most clients, however, come to site meetings and bring a list of questions for the architect and the interior designer. Whether or not they can attend, Linzi always follows up with detailed minutes and phone calls to ensure they are kept in the loop.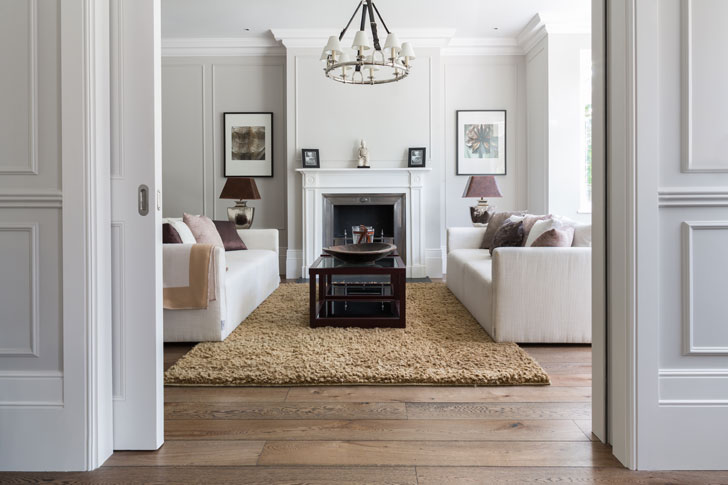 This 1930s semi-detached house in Barnes was significantly remodelled and enlarged by Granit. Photograph by Andrew Beasley
There are financial benefits
Working with a combined architectural and interior design practice can present financial benefits. Seamless communication saves time and savings can also be gained when it comes to suppliers. 'Many of our contractors, such as joiners and kitchen companies, work on the building and the interior side, so can offer a joint price if they are doing both,' she says. 'Some contractors aren't willing to take on just an interior project as it's too small.'
Many of Granit's clients discovered the joys of a combined practice almost by accident. 'They looked for an architect then found that we also offer an interior design service,' says Linzi.
At interiordesigners.net, we'll listen to your requiremens and recommend the type of design studio that is best suited to you and your project.