We explain how to make the most of your outside space and co-ordinate it with your interior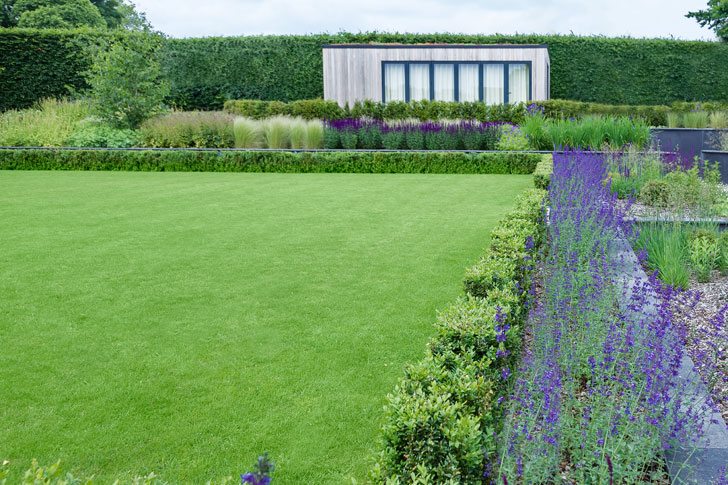 One of Charlotte's larger country garden designs
Landscape designer Charlotte Murrell often collaborates with our interior designers on a variety of projects, from small city spaces to large country gardens. This partnership of interior and landscape designer ensures that elements such as materials, colour schemes and planting correspond to create a pleasingly cohesive whole.
The process works best, says Charlotte, when she is brought in at the start of the project and works alongside the designer and building contractors. However, this is not always the case: 'The outdoor space is often the last thing that's thought of,' she says. 'Which is a shame. The ideal situation, especially with a new build, is to bring a landscape designer in at the beginning. Then the interior and the landscape can be considered together. It also means that the position of things like manhole covers and drainage can be discussed with placement of garden features and elements in mind. It's about valuing the garden and landscape as part of the property and recognising that it should be integral, and that it comes with a worthwhile cost.'
This knitting together of materials, views and colour palettes, creates a satisfyingly considered scheme and, most importantly, a pleasurable place to inhabit. We asked Charlotte for some pointers on how to achieve this interior and exterior balance.
Extend the interior out with the right materials
Increasing numbers of homes are now designed to bring the outside in, with bi-fold doors, glass extensions and conservatories opening up the back of the house. Introducing paving that runs from indoors out into the garden will help ensure a seamless and unifying progression. 'There are so many different types of paving to chose from now,' says Charlotte. 'Porcelain, for example, has recently become a popular material, with several ranges coming onto the market for use indoors and outdoors, making it a perfect paving material to tie interior and exterior spaces together.'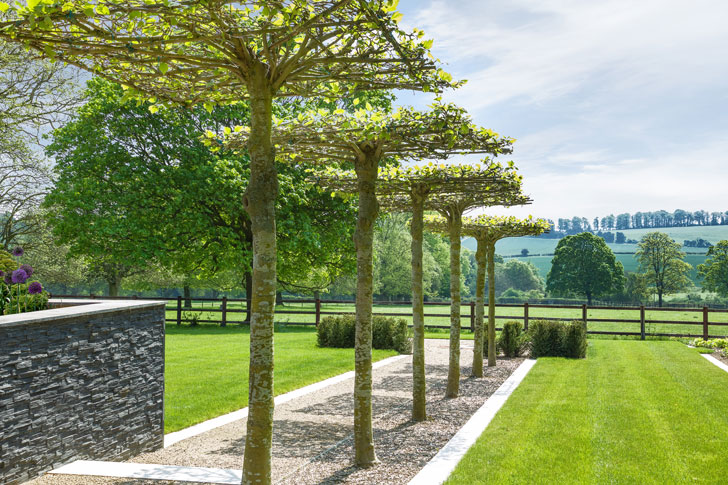 Parasol trees provide soft shade in summer. Charlotte 'borrows' the surrounding landscape as part of her design
Choose structural plants to provide year-round interest
Although you might not want to go into the garden all year round, you will still want to enjoy the view. One way to achieve this is to choose plants that have a strong form. 'If the garden has good structure,' says Charlotte, 'it will still look good in winter. Plants with great seed heads will last until spring, for example. Trees with interesting bark introduce texture, plants and trees with coloured stems brighten borders, clipped hedging and evergreens create a feeling of enclosure and form, and trained trees introduce sculptural shapes in winter.' Charlotte has used trained trees in some of her designs and particularly likes the way parasol trees, which are trained into an umbrella shape, create soft shade during the summer. 'They are also beautiful to look at,' she says, 'drawing the eye towards a view or feature you want highlighted.'
Install a lighting scheme to create a feeling of extra space
'Lighting is an excellent way to link the inside and out,' says Charlotte. 'In winter, when it gets dark so early, a well-lit garden will draw the eye out and makes the house feel bigger.' She also suggests lighting a specimen tree: 'I use uplighters on trees or washes of light across steps to add atmosphere and sculptural effect. It means you have something lovely to look out on.' Charlotte points out there are so many lighting options available now that the choice is endless. Different finishes include copper, steel, even Cor-ten, and garden lighting can be programmed with the house lighting and so it can be easily controlled.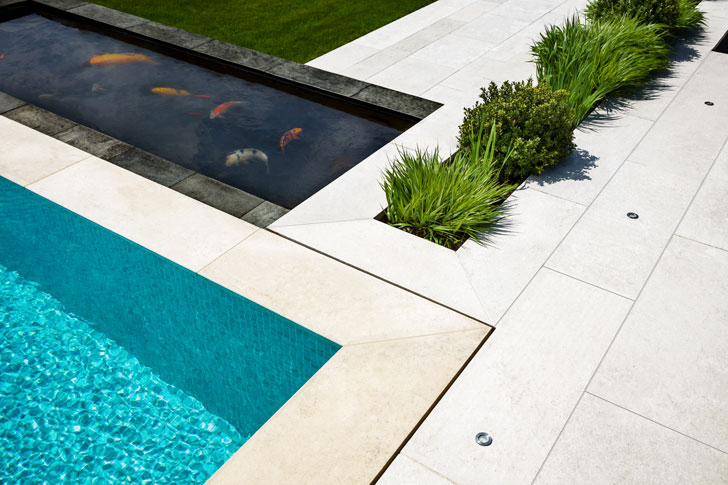 Hard landscaping materials often pick up the colours and materials of the interior scheme
Echo the interior scheme with furniture, colour and materials
There are various ways to avoid the indoors and outside feeling disjointed, says Charlotte. The material used on worktops in the kitchen, for example, can be echoed outside in planters and hard landscaping. Colours used in the interior scheme can be picked up with plants, containers and paving. 'Not brightly coloured paving, obviously,' says Charlotte, 'but pale limestone materials in the garden, for instance, can reflect a pale interior, and slate hard landscaping can echo a grey interior.' The style of furniture indoors can also be repeated outdoors in different, weatherproof materials.
Be realistic about the budget
Because planning and designing the garden is often left until the end, there can be a danger that insufficient funds remain to realise the project satisfactorily. 'People can be disappointed at the cost of implementing a garden and how that restricts what they are able to do,' says Charlotte. 'You have to consider the price of materials, plants, the landscape contractors' labour costs and the designer's fee.'
One way to avoid a budget shortfall is to be realistic about the garden and factor that in at the start of the project. Choosing smaller plants and waiting for them to grow can also be an option. 'About a third of my clients want an instant effect and are happy to pay for it,' says Charlotte. 'The rest are happy with planting smaller and waiting for plants to grow. That's the difference between designing a garden and an interior: an interior is static, but a garden is natural and forever evolving and changing.'
Photographs by Martin Gardner (@martingardner.com)