Choosing an interior designer to design your bathroom makes a lot of sense, as we explain here.
Bathrooms, shower rooms and en suites can be design blind spots in home decoration. Seen as a utilitarian space, they are often treated as functional areas and, as a result, don't fit with the style or decoration of the rest of the home. Frequently installed by bathroom companies, they can suffer from standardisation and don't reflect the home owner's taste or style.
Which is why choosing an interior designer for your bathroom is a smart move. Contact us at interiordesigners.net and we will match you with a designer who understands your style and preferences and will create a bespoke space. Recently we paired Kat Turner and Jessica Gibbons of Field Day Interior Design Studio with a creative couple in Fulham, to help them realise their vision for their shower room and master en suite.
We talked to Kat about why working with an interior designer on a bathroom project is a good idea.
What can an interior bring to the project that a bathroom fitter can't?
'An interior designer can introduce decorative features and creative elements into a bathroom that are often overlooked in standard bathroom fit-outs. Many bathrooms are designed for functionality, whereas we take real pleasure in designing a bathroom that will be as loved as much as the other rooms in the house.
'We personalise the space and bring in trades not used by bathroom fitters, such as cabinetmakers and joiners. Bathroom fitters often use off-the-shelf solutions, whereas we create bespoke cabinetry. The level of pesonalisation you get working with an interior designer is key: rather than buy a standard cabinet, we ask the cabinet maker to make a bespoke solution for the client.'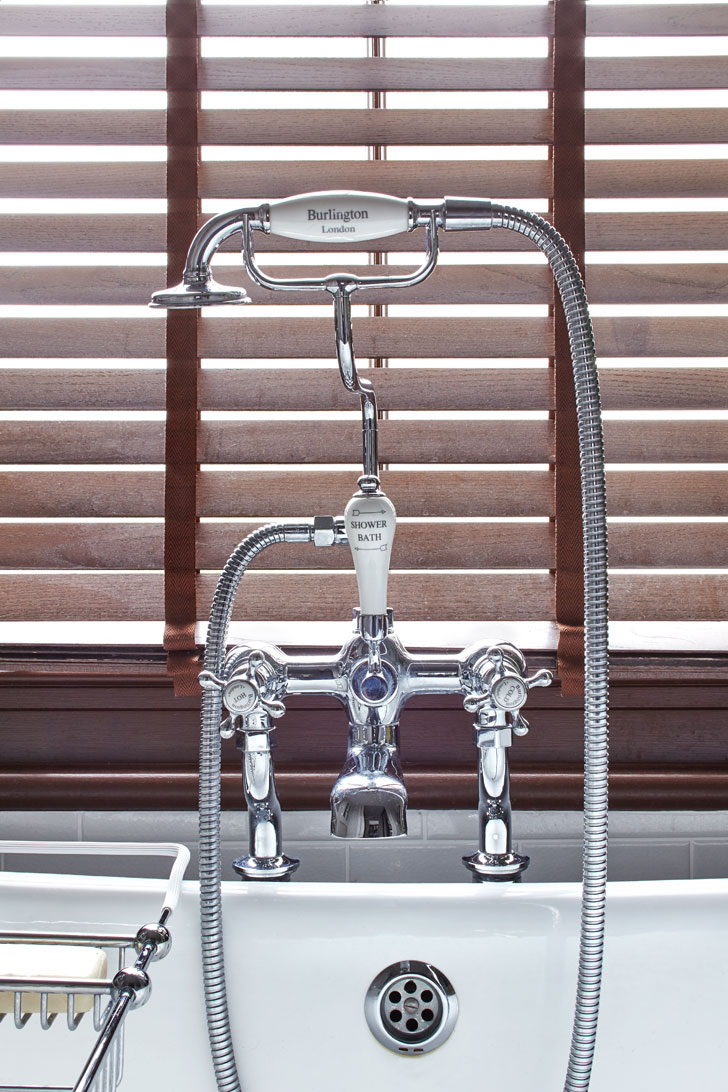 It's worth allocating a sizeable portion of your budget to taps and other fittings.
What should the largest portion of the budget be allocated to?
'Brassware – taps, shower fittings etc – is usually the most important element. Because they are built in, they have to last and so have to be good quality and from a reputable brand. If a client specifies an interesting finish – antiqued brass or weathered copper, for example – that will cost more but it will set the bathroom apart because it is striking and non-chrome.
'Similarly, we always chose the same lighting firms because we know the quality of the light can make or break a design.'
When it comes to working out the budget for your bathroom project, Kat advises that, as with any renovation, the result will be in direct proportion to your investment. 'A serviceable bathroom can be done for quite a reasonable price, hower that will compromise quality. Our advice would be to invest as far as is comfortable for you in quality fittings and fixtures that will last the course and give you a luxurius finish, even in a small space.'
Does an interior designer project manage the bathroom fit-out?
'For us, it depends on the contractors that are involved in a particular project. Usually we work with a full-time project manager who is on site and who we liaise with daily. If there isn't, we become involved personally and visit frequently to make sure everything is being fitted as we intended.'

Kat and Jess had to search high and low for a suitable pendant light for this bathroom.
What are the challenges when designing bathrooms?
'Primarily, planning the space cleverly. This is paramount for functionaility but also for feel. You want this room to feel as luxurious as it does practical.'
'Lighting choices can be limited because if a light is exposed to moisture, this will get in and affect its longevity. Therefore lighting must have the correct IP rating [this defines the level of sealing effectiveness of a light's electrical enclosures]. There isn't a huge selection of lights with the correct IP rating in the UK, unless you choose outdoor lighting. We always include a mix of ambient and task lighting in a bathrom.'
'Dealing with existing plumbing can also be challenging. In the shower room of the Fulham project, the Victorian piping had to be concealed in a raised level [link] which became a step into the shower.
'Choice of heating can be limited by space and use. A large heated towel rail could be enough to heat a small room, whereas a wet room really needs underfloor heating. Without it, water from the shower doesn't dry quickly and there is a risk of slipping.'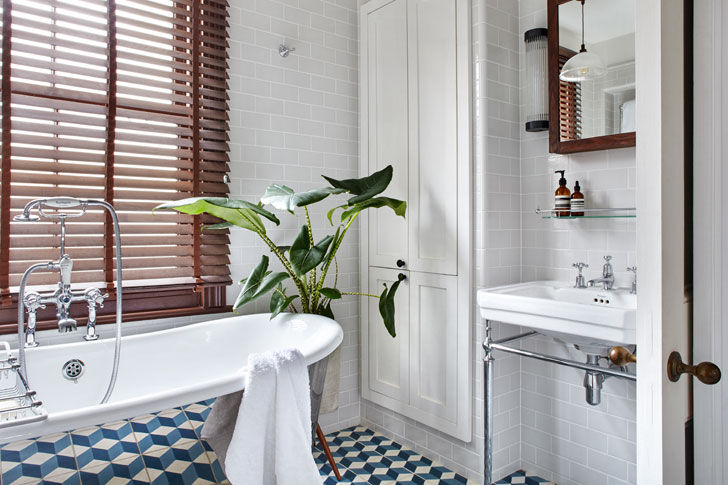 House plants lend vitality to bathrooms and thrive in the moist conditions, as this one in a Fulham bathroom by Field Day shows.
Are there any bathroom trends we should be aware of?
* SMALLER TILES 'Tiles are becoming much smaller. Metro tiles are still popular, largely because they are so versatile and there are so many to choose from, and so they are affordable, but there is also an increase in little square and hexagonal tiles.
* COLOURFUL CERAMICS 'We are also excited about the return of coloured sanitaryware. Water Monopoly has some lovely colourful ceramics by Rockwell: pink, yellow and blue basins and baths and loos. They're so playful, we're dying to use them!
* THE RETURN OF PLANTS 'Houseplants have also returned to the bathroom. The warm, moist atmosphere suits many tropical plants which thrive in those conditions. A plant also gives a room vitality and brings it to life.' Check out our previous blog on Biophilia.
* WOOD 'Wood makes a bathroom feel more like a room in the house, and not so utilitarian. It has to be used carefully, however. It's safer to use decoratively, rather on walls and floors. We've seen too many examples of wood used as bath surrounds, for example, which have been ruined by leak damage.'
Next time: We look into kitchen design...Stay tuned!