An interior designer can help you get the most from your kitchen, and connect you with trends and innovations, as we explore in this article.
Creating a new kitchen involves many decisions, from how to use the space efficiently to choosing appliances and installing lighting. All of which takes time and expertise. Which is why working with an interior designer makes a great deal of sense. They have the knowhow necessary to make the process pleasurable, will work with you to create the kitchen that suits your style and your needs and will help you realise a beautiful and functional space.
If you are planning a new kitchen, contact us at interiordesigners.net first and we will match you with the right designer for your project. Recently we introduced clients who wanted a new kitchen installed as part of their Belsize Park residential project, to one of our designers, Roselind Wilson Design. Ros and her team created the award-winning kitchen in these pictures, which cleverly blends old with new and practicality with gorgeousness.
She talked to us about the project and shared some kitchen wisdom along the way.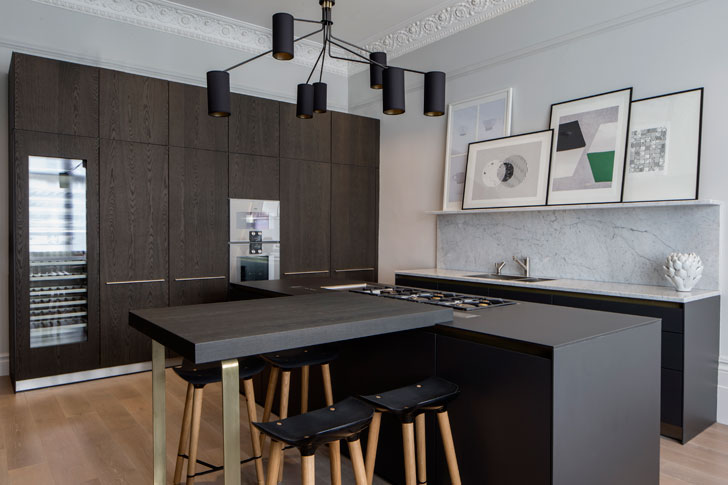 Roselind Wilson Design combined traditional and contemporary in this kitchen in North London. Photograph by Richard Waite
A modern kitchen can work in a traditional home.
The kitchen in the Belsize Park apartment was originally the reception room before the house was divided up. As a result, it has 3.8m high ceilings, ornate cornicing and an enormous ceiling rose. Ros wanted to celebrate these original features while introducing a state-of the-art modern kitchen and contemporary materials. She did this by understanding the history of the house. 'Everything needs to have a story,' she says. 'The stories of this house were revealed by looking. We contacted English Heritage to come and tell us what was original and what wasn't. The cornice and rose were, but the fireplace wasn't.'
Ros saw this blending of old and new as a gift. 'Often kitchens are too contemporary or too 'English Country',' she says. 'This kitchen allowed us to create a hybrid by finding a balance between the classic elements and contemporary materials.'
The scale of the room also meant it could take dramatic treatment. 'The ceiling rose allowed us to have a statement pendant light,' says Ros. 'It looked in proportion because of the height. We could also extend the cabinetry much higher than usual. This not only looked dramatic but meant that there was plenty of storage and somewhere to hide the air-conditioning unit.'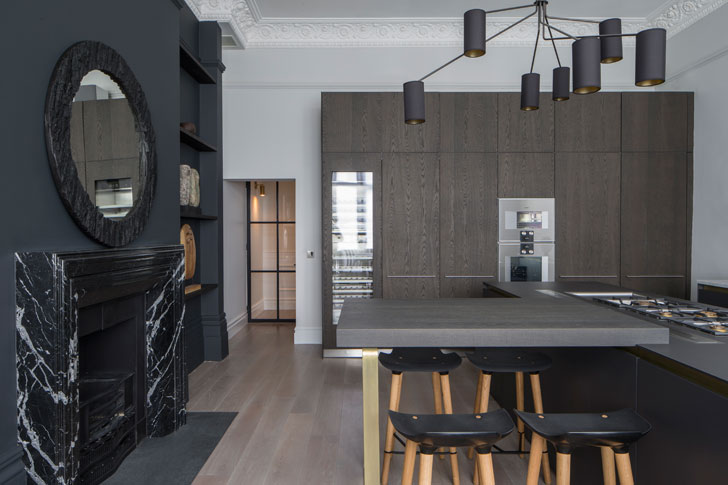 The kitchen was originally a reception room and has high ceilings and ornate cornicing. Photograph by Richard Waite
Interior designers often work alongside kitchen companies
While using a kitchen company to install your new kitchen may seem like an easy option, they may not deliver all that an interior designer can. 'Kitchen companies focus on one room and don't take the rest of the house or the personality of the owners into account,' says Ros. 'We make bespoke kitchens tailored to our clients requirements.' However, she does collaborate with kitchen manufacturers when it is beneficial. 'In the Belsize Park project, Kitchen Architecture implemented our designs,' she says. 'Kitchen companies can bring expertise and functionality to the project. They are up to speed with new technology and new products. I see them as allies; it can often be helpful to work with them.'
Think of the kitchen holistically
The Belsize Park clients wanted the space to feel like a room not just a kitchen, and they also wanted it to reflect their style and taste. This is a trend that Ros is seeing more and more, as kitchens are designed as an integral part of the home, not in isolation. 'Many kitchens look as though they could be in any house,' she says. 'They feel as though you are walking into a kitchen showroom. A home should reflect the people who are living in it, and no part should be looked at in isolation.'
Thinking of the kitchen as a co-ordinated part of the home doesn't mean you can't have a classic interior and a contemporary kitchen, however. 'There is always a way to bring the look together,' Ros says, 'whether that's through a unifying colour palette or by using a material that acts as a bridge.'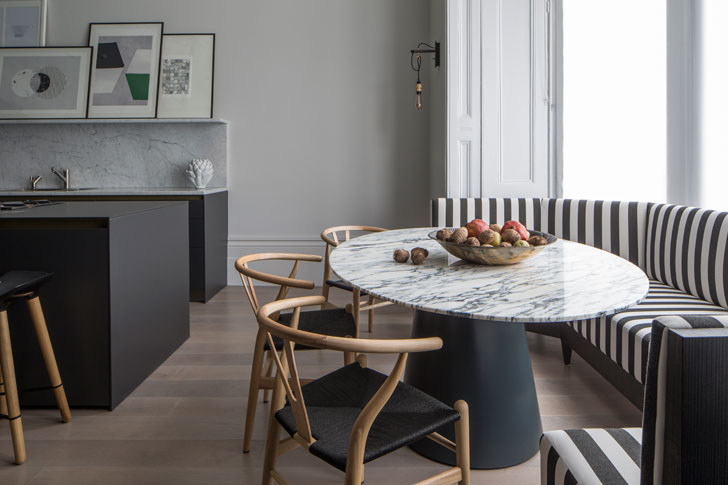 The room is multi-functional and is a place to cook, eat and sit. Photograph by Richard Waite
Your kitchen is a flexible space
Kitchens used to be either a separate room or an open-plan space but although some clients still have a strong preference for one or the other, that's not always the case any longer. 'People are looking at bigger spaces and doing more within that space,' says Ros. 'It's not just a case of having an open-plan kitchen. We have a client at the top end of the market, who has a formal kitchen and an informal kitchen; one is open-plan and one is separate. Another client has an open-plan dining, cooking and seating area and wanted to separate the kitchen when entertaining. We suggested they install a fire curtain or glass panels.'
Ros thinks that this trend for flexible spaces was initiated by Michelin-starred restaurants where diners can watch the chef prepare their meal. 'That feeling has been brought into kitchens,' she says. 'People are not so afraid to try something different with regard to space.'
Your interior designer knows what is new and what is innovative
Interior designers attend the big design fairs in Milan and London, so they know what is fashionable and what is dated. Clients are also becoming more savvy and pick up trends on Instagram and Pinterest.
Ros sums up recent kitchen trends for us:
1. Industrial materials are still popular
'At the moment there is an over-riding trend for industrial-style kitchens. Metal is very prominent, especially laser-cut metal screens, and there's also a trend for laminated glass: mesh or fabric sandwiched between two sheets of glass which can be used for screens, cupboard doors or splashbacks.'
Wood will always be a favourite material in kitchen, Ros says. In the Belsize Park project, for example, the cabinets were anthracite-stained oak. 'Wood will always be seen as a quality material,' she says. 'It's solid and feels substantial.' Wood is also fashionable as a flooring material (the Belsize Park project has light, stained oak floors). 'There is a move towards chevron and herringbone patterns. Metal is also being introduced by replacing some planks with metal inlay and creating funky geometric patterns.'
2. Lighting is a mix of ambient and functional
'It's important to have different layers in a kitchen. Where you cook, light must mimic natural light so that food looks bright and clean. In the Belsize Park apartment, we combined dimmable Lutron spotlights in the ceiling with the big pendant light, the shades of which were lined with gold so that it felt warm. We also installed wall lights and two floor lights either side of the fireplace.'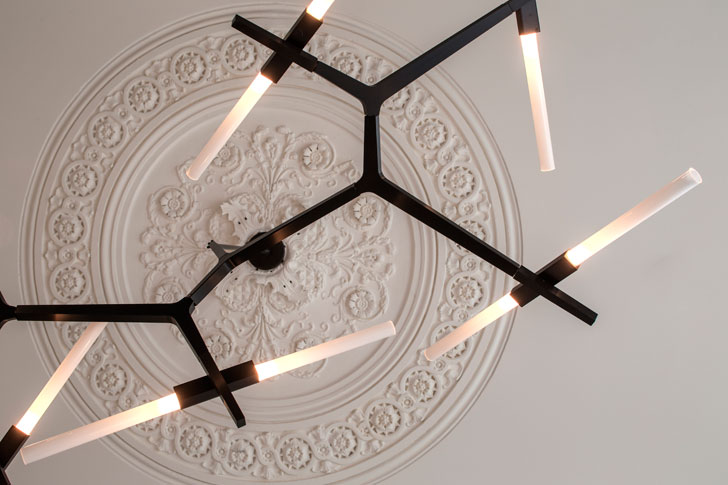 The huge ceiling rose in the Belsize Park kitchen now has a statement pendant light. Photograph by Richard Waite
3. Utility rooms are important
'Utility rooms are being given as much attention as the kitchen, rather than being shut away behind a door. In a recent project in Hampstead Heath, we used the same level of quality finish in the utility room as in the kitchen.'
4. Appliances get even more sophisticated
'Many brands have really developed the technology for hobs and ovens. Some are so sophisticated they need a lesson to explain them! They might seem over-complicated but are useful for frequent cooks. Wine fridges continue to be popular, as do instant hot water taps, which are beginning to replace kettles. Dishwashers with two drawers are growing in popularity as people appreciate their versatility.'
5. Island units are working harder
'In smaller spaces, an island unit has to be multi-functional; it's no longer just a storage space for your pots. In one of our client's pied-a-terre, the dining table slides away inside it. A unit has to combine different functions: storage, seating and dining.'
If you have a project and are considering using an interior designer, contact us and we'll talk through your requirements and find you a suitable match.