You may wonder: do I really need an interior designer? How do interior designers work? This article aims to give you an overview of a typical residential interior design project so you can see how a project would flow.
You've chosen your interior designer. What happens next?
Step one: The Briefing
Handling the first step effectively is crucial – this is where plans are laid and potential pitfalls averted. All those involved in the decision making should gather together to discuss the project. Having everyone in agreement on what is needed and what that will look like will lay the foundations for a successful project.
Now is the time to work out what you want from your home. Ask yourself how you really want to use your space. See this as an opportunity to reconsider how you live. You may crave more space and less clutter, to have more light in the home, or adopt a totally different decoration scheme. The big questions are asked now: is a new kitchen needed or can the old one be revamped? Is there any structural work to be carried out? Will there be an extension? The designer will be right beside you during this process, supporting and inspiring you to make the right choices.
At the end of this meeting the scope of works should be agreed, the budget discussed and the designer should have a clear brief on what you want them to do.
Step two: The Concept
Your designer will carry out a survey of the spaces to be designed and go into more detail with you about what you are looking for in terms of style. A good way to communicate your likes and dislikes is to compile a bank of images: try assembling cuttings from magazines or creating a board on Pinterest. Your interior designer will also ask questions to help understand your style and taste – holiday and clothing preferences often provide useful pointers.
The designer will then distill all the information from your initial discussions and present you with inspirational ideas for the overall look and feel of your project. The presentation may vary depending on how the designer works but is likely to include images reflecting the desired look, mood boards and sketches. They can also provide you with drawings by hand or on CAD to help you visualise the look.
Designer Gemma Zimmerhansl's finished reception room in Kensington turned out very similar to her original hand drawing: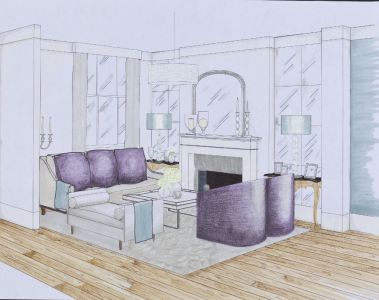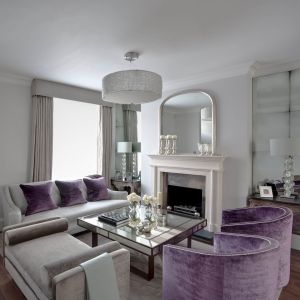 Step Three: Design Development
It's time to nail the specifics. The concept is developed into every detail. It will be your designers' job to present you with a manageable choice here, in line with both the concept and your budget, so that a 'shopping list' within your budget is drawn up to sign off. They will use their up-to-date knowledge of what is on the market at different price points and experience of having seen what works in practice to advise you.
Measured layouts will be drawn up, often with several options to choose from, then the electrical and lighting plans will be finalised. Technical drawings will be presented to the relevant trades people and the work costed. Decisions will be made on the hard finishes, soft furnishings, furniture, wall treatments, floor coverings, fixtures and fittings. All details, including the exact space required for clothing and shoes, for example, and the finer points of blinds and pelmets – which can be extensive – are taken care of.
Here, Studio K provided their client with several options before this layout was decided upon: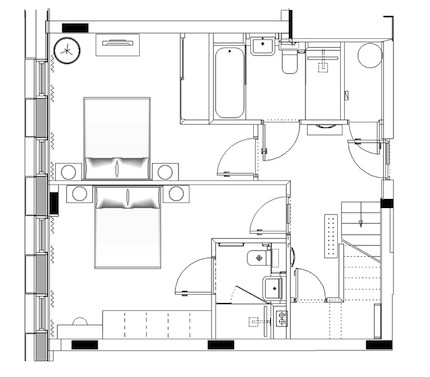 Step Four: Ordering
You've signed off the purchasing list so now the designer will get to work placing orders and booking in trades people, drawing on their little black book of trusted suppliers and trade contacts. They will arrange transportations and deliveries, check stock and lead times and liaise with the builders/decorators/plumbers/electricians to refine specifications and costs, ready for installation.
Step Five: Installation and Styling
The trades people are in the house and the work has started. The interior designer is on hand to co-ordinate the work and ensure everything is delivered and installed in accordance with the agreed designs and as efficiently as possible. Your designer will exercise quality control and take care of any final snagging. Their final job is to style the rooms to make sure everything is looking its best.
Emma Hooton enjoys styling her clients' homes before handover: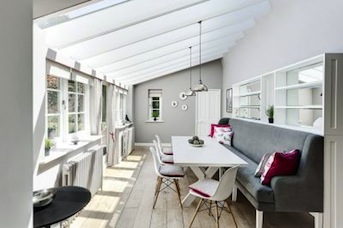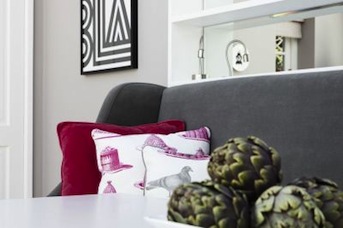 As everything has been planned and organised carefully, the work should go ahead smoothly leaving you with little to worry about, and a beautiful new home to enjoy exactly as you had imagined.